Indian capital to roll out 'odd-even' formula from next week to check pollution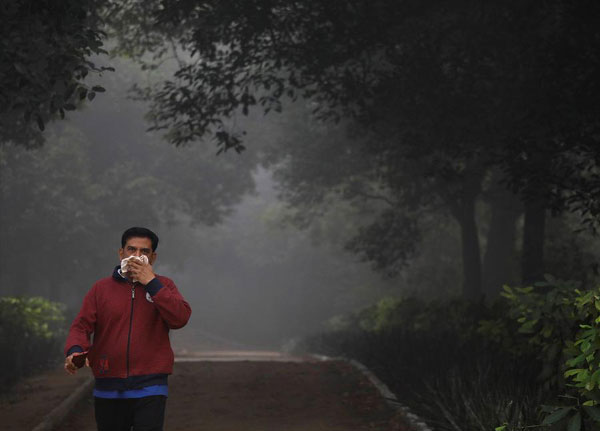 A man covers his face with a handkerchief as he walks in a park on a smoggy morning in New Delhi, India, Nov 9, 2017. [Photo/Agencies]
NEW DELHI - The local government in New Delhi Thursday announced it would roll out "odd-even" formula of private cars in the capital city from next week, officials said.
The announcement was made by local transport minister Kailash Gahlot.
"Odd-even car rationing scheme will be enforced in Delhi for a five-day period from Monday," Gahlot said.
The decision to impose the formula was made in the wake of rising air pollution levels in the national capital.
Under the arrangement, private cars with odd registration numbers are allowed to run on odd dates while even-numbered cars would ply on even dates.
Last year the scheme was enforced twice, from Jan. to Jan. 15 and April 15 to April 30.
Since Tuesday morning, Delhi was covered with thick smog, following which health officials issued advisory to elderly and children to avoid venturing out.
All schools in Delhi, adjoining areas and Punjab were closed until Sunday in view of the pollution.
The entry of trucks except those carrying essentials has been banned in the national capital, besides work on civil construction sites was suspended.
The deadly smog chocks air causing breathlessness and lung difficulties, besides badly affecting the visibility.
Delhi is considered to be the most polluted city in the world. Last year the city's high court described the capital as "gas chamber".
Air pollution is a leading cause of premature death in India. Pollution in Delhi gets aggravated during winter months. Ahead of winters people burn agricultural waste to clear cropland, which contributes to the choking of already polluted air.