High-tech transport cooperation gives wings to China-US trade ties
BEIJING - At a factory in Changchun in Northeast China's Jilin province, state-of-the-art subway cars are being manufactured for Boston's orange subway line. When these are delivered in December, they will become the first Chinese subway cars to land in the United States market.
The deal signed three years ago between manufacturer CRRC Changchun Railway Vehicles and Massachusetts Bay Transportation Authority is a demonstration of enhanced high-tech cooperation between China and the US in recent years.
CRRC holds the intellectual property rights to the carriages that meet the strict US standards in technology, localization and law, and can ensure passenger safety in the event of trains colliding at a speed of 40 kilometers per hour.
"These 'next-generation vehicles' will be the backbone of our heavy rail fleet for many years to come," said Jerry Polcari, chief procurement officer for the MBTA.
Today, China possesses the core technology for almost all advanced rail transportation equipment in the world, and the average cost of high-speed railways built by Chinese companies is about half of that by foreign counterparts, while the construction efficiency is much higher, said Ding Rongjun, an academician from the Chinese Academy of Engineering.
The car parts will be manufactured in Springfield, Massachusetts, where a CRRC assembly factory was built in September 2015. It will start operating in 2018, creating at least 150 jobs.
Following the first order in Boston, CRRC bagged more contracts from other overseas markets, including Chicago, Los Angeles, Philadelphia and London.
The CRRC case is just one example of how China's fast-growing high-end manufacturing industry is going places. With breakthroughs in cutting-edge tech innovation and the high-end manufacturing industry maintaining rapid growth, the country is eyeing overseas cooperation.
"China has advanced very much in its science and engineering side. It's been good, but is getting better... It's very impressive, like no place else in the world," said Clayton Daniel Mote Jr, president of the US National Academy of Engineering. "So this cooperation will be a great benefit not just to China and the United States, but to the world."
New energy is another area where China and the US have been increasing their cooperation.
Shanghai GM, a joint venture of China's SAIC Motor and US automaker General Motors, has announced its strategy of launching a new Made-in-China new energy vehicle model every year from 2016 to 2020, with the range covering different hybrids and pure electric models.
Some foreign companies are planning to invest in China or adjust their businesses because they fancy the "blue ocean" of China's growing consumption, said Bai Ming, deputy director of the international market research department of the Ministry of Commerce.
From January to September, 424,000 new energy vehicles were made in China, up 40.2 percent year-on-year, and 398,000 were sold during the period, up 37.7 percent, according to the Ministry of Industry and Information Technology.
Xinhua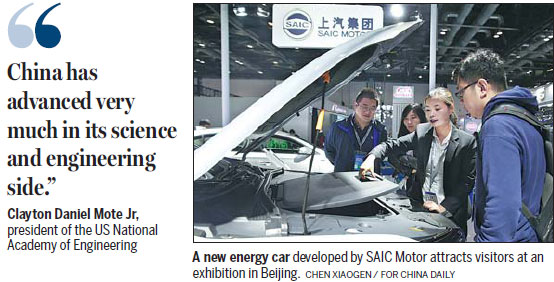 (China Daily 11/09/2017 page23)
Today's Top News
Editor's picks
Most Viewed