Trump in Japan for 1st stop of Asian tour, security, trade in focus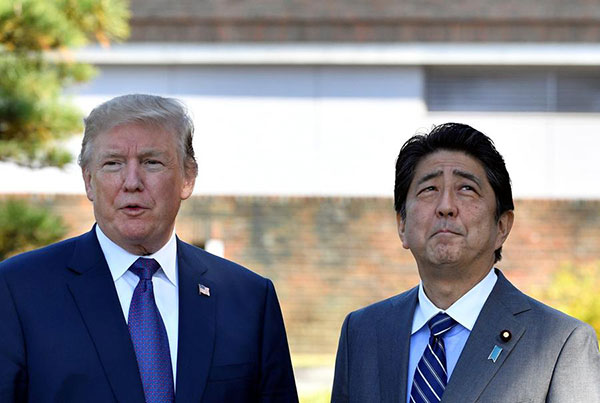 US President Donald Trump (L) meets with Japan's Prime Minister Shinzo Abe upon his arrival at the Kasumigaseki Country Club in Kawagoe, near Tokyo, Japan, Nov 5, 2017. [Photo/Agencies]
TOKYO - US President Donald Trump arrived in Japan Sunday for the first stop of his 9-day Asian tour.
The president's Air Force One landed at the US Yokota Air Base in the suburbs of Tokyo Sunday morning, where he gave a speech to the US and Japanese military personnel.
He said that besides tightening ties with allies in security, the US will be seeking "free, fair and reciprocal trade" during the tour.
Trump and Japanese Prime Minister Shinzo Abe are slated to play golf Sunday afternoon at a country club outside Tokyo before having dinner together.
Before leaving his office to meet Trump, Abe said he hopes to "make the bonds of the Japan-US alliance even stronger" through the "historical visit."
On Monday, Trump will meet Emperor Akihito and Empress Michiko. Later in the day, he will hold a summit and a joint press conference with Abe, during which regional security and trade issues are expected to be discussed.
While Tokyo is working to bring into effect the Trans-Pacific Partnership (TPP) trade deal from which the US has withdrawn, Washington is keen to pursue a bilateral trade deal which has raised concerns on Japan's part that it would be put in a disadvantageous position.
Also on Monday, Trump will meet with some relatives of Japanese nationals allegedly abducted to the Democratic People's Republic of Korea (DPRK).
Japan is Trump's first stop on a five-nation Asian tour, which will also take him to South Korea, China, Vietnam and the Philippines.
The Tokyo Metropolitan Police Department said it has deployed a record high of 18,000 police officers for security during the three-day visit.