Suspect arrested in deadly Walmart shooting in US state of Colorado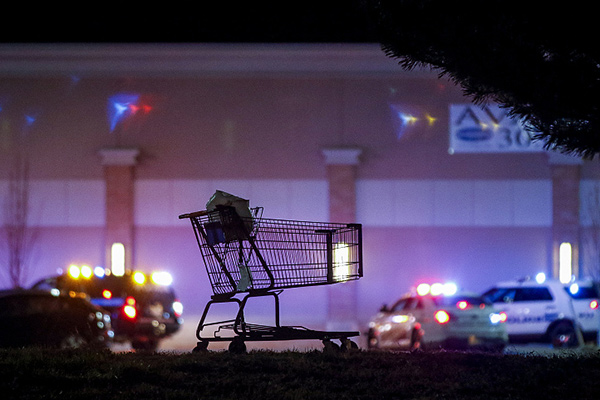 A lone shopping cart sits in the parking lot as police investigate the scene of a shooting at a Walmart store in the Thorton Town Center shopping plaza on Nov 1, 2017 in Thornton, Colorado. [Photo/VCG]
LOS ANGELES - A suspect of the fatal shooting that killed three people inside a Walmart supermarket in the US state of Colorado was arrested Thursday morning, local police confirmed.
"Walmart homicide suspect Scott Ostrem has been taken into custody," Thornton Police Department said on its official tweet page, 14 hours after the heinous act occurred around 6:00 pm Wednesday evening (0030 GMT, Thursday) in Thornton, a Denver suburb, and left three dead.
The suspect was identified as 47-year-old Ostrem, who was described by witnesses as a cold blood murder. Police said he walked into the south entrance of the store and began shooting a handgun randomly, then fled the scene in a red car.
Local Denver Post reported that Ostrem was stopped on street Thursday while driving that Mitsubishi Mirage with Colorado license plate.
Ostrem said nothing when he opened fire at the supermarket, police disclosed, adding they had no idea about his motive but there are no indications it is terror-related.
"From what we have right now it appears to be random. It's a crazy world we live in." Thornton police spokesman Victor Avila said in a briefing conference.
"He walked in very nonchalantly with his hands in the pockets, raised a weapon and began shooting. Then he turns around and walks out of the store."
Denver Post also reported that court records show Ostrem was arrested in 2013 for driving while impaired and filed for bankruptcy two years later.