Backgrounder: Deadly US mass shootings in recent years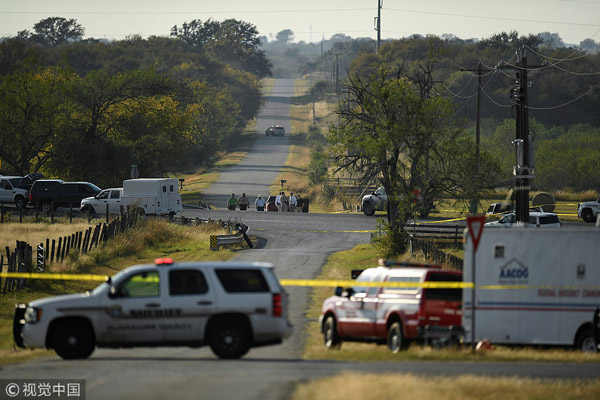 Law enforcement set up a cordon along an intersection in the aftermath of a mass shooting in Sutherland Springs, Texas, US, November 5, 2017. [Photo/VCG]
HOUSTON - The mass shooting in a church in Texas on Sunday, the deadliest in the American state's history that saw 26 people killed and nearly two dozen others wounded, is the latest in a string of deadly shootings in the United States that have become more and more frequent in recent years.
In 2016 alone, over 57,000 incidents of gun violence were reported, killing at least 14,000 people and injuring 30,000.
The following is a chronology of the mass shooting incidents recorded in the United States in recent years:
-- LAS VEGAS, Nevada, Oct 1, 2017: At least 59 people, including the alleged gunman himself, were killed and more than 500 others wounded when the attacker opened fire, sniper-style, on an open-air music festival in Las Vegas. It was the worst mass shooting attack in US history.
-- FORT LAUDERDALE, Florida, Jan 6, 2017: Five people died and six others were injured in the shooting inside the Fort Lauderdale-Hollywood International Airport. The gunman, Esteban Santiago, then laid down his weapons and surrendered to police.
-- ORLANDO, Florida, June 12, 2016: A security guard wielding an assault-type rifle and a handgun killed 49 people at a gay nightclub in Orlando before he was shot dead by police.
-- SAN BERNARDINO, California, Dec. 2, 2015: A couple declaring allegiance to the Islamic State killed 14 people and wounded 17 others at a social services center in San Bernardino City, southern California. Syed Rizwan Farook and his wife Tashfeen Malik were pursued by police and died in the ensuing shootout.
-- OREGON, Oct 2, 2015: A gunman killed nine people at a community college in the state of Oregon before committing suicide after being wounded by police.
The gunman, identified by US media as 26-year-old Chris Harper Mercer, opened fire at Umpqua Community College in Roseburg, about 290 km south of Portland, Oregon's largest city.
-- CHARLESTON, South Carolina, June 17, 2015: A white man opened fire during a prayer meeting inside a historic black church in downtown Charleston, killing nine people in an assault that authorities described as a hate crime. Subsequently, the assailant, Dylann Roof, was sentenced to death in January 2017.
-- CHICAGO, May 26, 2015: Twelve people were killed and more than 40 more wounded in shootings in Chicago during Memorial Day.
-- WACO, Texas, May 17, 2015: Nine people were killed and several wounded after a shootout between rival biker gangs in Waco, Texas, with more gangs threatening to descend on the town after the violence.
-- WASHINGTON, Sept 17, 2013: A 34-year-old navy contractor employee opened fire inside the building at the Washington Navy Yard that serves as the headquarters of the Naval Sea System Command, killing 12 people before he was shot dead by police.
-- NEWTOWN, Connecticut, Dec 14, 2012: The Sandy Hook elementary school shooting stunned the nation after a gunman killed 20 children and six adults. The attacker, who killed his mother prior to the rampage, also died in the massacre.
-- OAK CREEK, Wisconsin, Aug 5, 2012: A white supremacist killed six people in a Sikh temple in Oak Creek before he was wounded by police and turned the gun on himself.
-- AURORA, Colorado, July 20, 2012: Twelve people were killed and 59 others injured at a Batman movie premier, where a lone, heavily armed gunman burst into a packed theater in a suburb 10 miles (16 km) east of Denver. Local police identified the perpetrator as James Holmes, 24, who was given 12 life sentences for each victim, and an additional 3,318 years for those he tried to kill.
-- TUCSON, Arizona, Jan 9, 2011: A gunman opened fire at a public gathering outside a grocery in Tucson, Arizona, killing six people including a nine-year-old girl and wounding at least 12 others. Congresswoman Gabrielle Giffords was shot point blank in the head, leaving her critically injured, but she recovered miraculously. The 22-year-old shooter, who was reported to be fixated on Giffords, was sentenced to life imprisonment in 2012.
-- FORT HOOD, Texas, Nov 6, 2009: US army psychiatrist Major Nidal Hasan opened fire at a military base in Fort Hood, leaving 13 dead and 42 others wounded. He was sentenced to death in 2013.
-- BINGHAMTON, New York, April 4, 2009: A man shot dead 13 people at a civic center in Binghamton, where he had enrolled earlier to study English,before killing himself.
-- CARTHAGE, North Carolina, March 30, 2009: A heavily-armed gunman shot dead seven patients and a nurse in a privately-owned nursing home in North Carolina, intending to kill his estranged wife who worked there. He was given multiple sentences, totalling over 179 years.
-- DEKALB, Illinois, Feb 15, 2008: A former student opened fire in a lecture hall of Northern Illinois University in DeKalb, killing five students, mostly women, and wounding 16 others before fatally shooting himself.