S.Korean President Moon greets Trump in US military base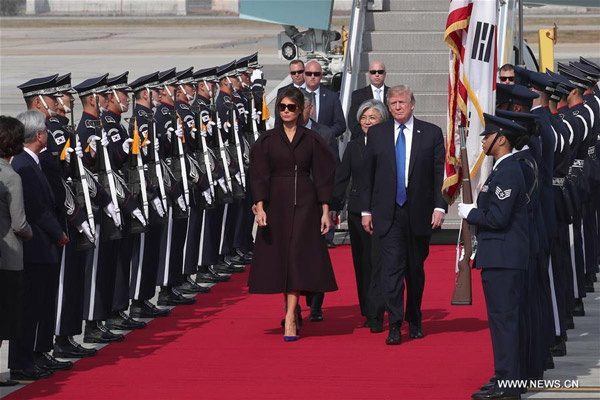 US President Donald Trump (R Center) and his wife Melania Trump (L Center) arrive at the Osan Air Base in South Korea Nov 7, 2017.  [Photo/Xinhua]
SEOUL - South Korean President Moon Jae-in personally greeted US President Donald Trump at a US military base in South Korea on Tuesday as the US leader began his two-day state visit to the country.
Trump, on the second stop of his 12-day Asian tour, landed around noon at the Osan Air Base outside of the capital Seoul and was greeted by Kang Kyung-hwa, the foreign minister of South Korea.
Then he flew by helicopter to Camp Humphreys, a newly renovated US military base in Pyeongtaek, about 40 km south of Seoul, where President Moon personally greeted Trump at the base.
Local media outlets described it as an exceptional protocol toward Trump as Moon was originally planned to welcome the US leader at his office, the Blue House in Seoul.
The two leaders had a lunch together with service members of both South Korea and the US Forces Korea (USFK) at Camp Humphreys, which is seen as the world's largest overseas army base of the US military.
South Korea's government reportedly contributed to over 90 percent of $10.7 billion of costs to construct the US base.
President Moon told the service members that they are the cornerstone and future for the South Korea-US alliance, asking them to build peace and prosperity on the Korean Peninsula and in Northeast Asia together.
"Today is a very historic day," Moon said in a live broadcast offered online by the Blue House. The president noted that Tuesday marked the first day in history the leaders of South Korea and the United States visited the US military base together to pat the service members of the allies on the back.
Trump was briefed on security situations on the Korean Peninsula, and flew by helicopter to hold a summit meeting with Moon at the Blue House.
Moon separately flew by chopper to his office in Seoul.