Death toll from Vietnam storm tops 60 and dams near bursting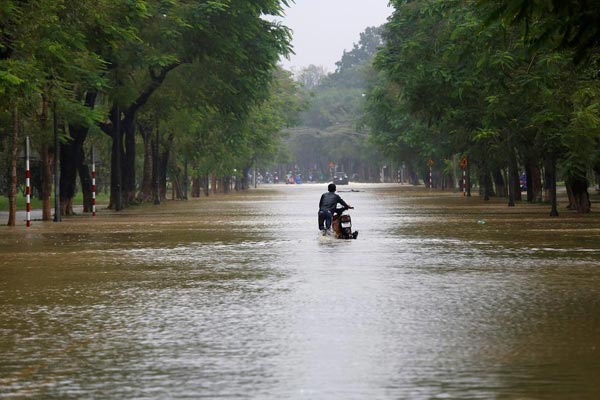 A man pushes his motorcycle along flooded road after typhoon Damrey hits Vietnam in Hue city, Vietnam Nov 5, 2017. [Photo/Agencies]
DANANG, Vietnam - The death toll from a typhoon and ensuing floods in Vietnam reached 61 on Monday and the government said some reservoirs were dangerously near capacity after persistent rain.
Typhoon Damrey tore across central Vietnam at the weekend just days before the region is due to host the APEC summit of Asia-Pacific leaders.
Vietnam's Search and Rescue Committee said 61 people had been killed and 28 were recorded as missing. It said some of the victims were in vessels that capsized at sea. Others were killed in landslides. It did not give a full breakdown.
More than 2,000 homes had collapsed and more than 80,000 had been damaged, it said. Roads that had been flooded or washed away caused traffic jams across several provinces.
Prime Minister Nguyen Xuan Phuc chaired an emergency meeting on the disaster. Ministers said that because some dams were so full, water might need to be released to relieve pressure -potentially worsening flooding downstream.
Reuters