FBI tries to access cellphone of Texas church mass shooting gunman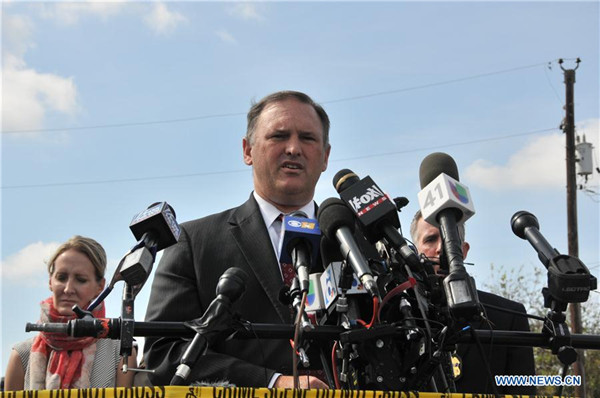 Christopher Combs, FBI special agent in charge, speaks at a press conference in Sutherland Springs, Texas, the United States, on Nov 7, 2017. [Photo/Xinhua]
HOUSTON - The FBI agents collected the cell phone of the gunman, who killed 26 people in a shooting rampage in a Texas church, but have yet to access it, said Christopher Combs, FBI special agent in charge, on Tuesday.
Combs said during a press conference outside the church in Sutherland Springs, the US state of Texas, "we will know more when we are able to explore his phone," adding the gunman is not in the FBI database.
A local law enforcement official confirmed there are 136 officers working on the "massive crime scene" and investigation can go on for days.
The suspect was identified as Devin Kelley from New Braunfels, a city about 50 kilometers north of Sutherland Springs.
Kelley received a bad-conduct discharge from the US Air Force for assaulting his wife and child, and was sentenced to 12 months' confinement after a 2012 court-martial.
He served in Logistics Readiness at the Holloman Air Force Base in the southwestern US state of New Mexico from 2010 until his discharge, US Air Force spokesperson Ann Stefanek told media earlier.
Stefanek later confirmed the Air Force didn't report the shooter's domestic violence conviction to the FBI, leaving the door open for him to buy weapons.
At least 26 people, including an infant and a pregnant woman, were killed in the worst shooting incident in Texas history, with 10 injured victims still in critical conditions, authorities said.
The shooting happened at the First Baptist Church. Kelley walked in around 11:30 a.m. (1730 GMT) on Sunday and opened fire on the crowd of people.
At the press conference, Combs also warned people to take shootings very seriously and do everything possible to prepare for such crisis and try to prevent it from happening.