Race on contract to build Britain's fastest trains for HS2 link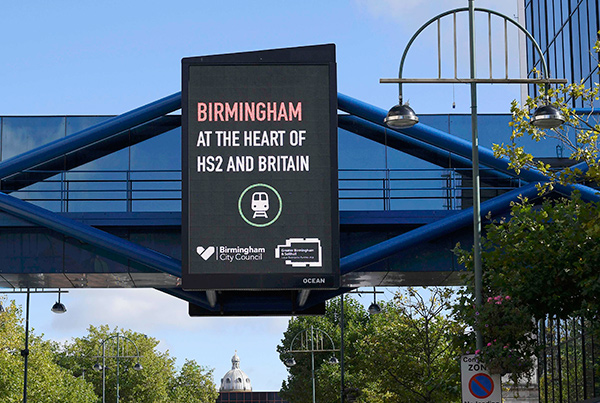 A electronic billboard promoting the HS2 transport link development and the city of Birmingham is seen during the annual Conservative Party Conference in Birmingham, Britain, Oct 2, 2016. [Photo/Agencies]
LONDON - The names of five bidders vying to win a 2.75-billion-pound ($3.65 billion) contract to build Britain's fastest-ever trains were revealed Thursday by HS2 Ltd, the state-backed company behind the country's high-speed rail network.
The next generation of state-of-the-art high speed trains will carry tens of thousands of people every day on the route between London, Birmingham and northern England.
The shortlisted bidders are: Alstom Transport; Bombardier Transportation UK Ltd; Hitachi Rail Europe; Patentes Talgo SLU, and Siemens PLC. They will all be invited to tender for the contracts, which will cover the design, building, and maintenance of at least 54 trains that will come into service from 2026.
The new trains will be required to meet design and performance needs and the highest standards internationally for passenger experience, noise reduction, and environmental sustainability. All bidders will be invited to submit their bid in spring 2018, with contracts awarded in 2019.
HS2 will create around 25,000 jobs and 2,000 apprenticeships in construction and also across the country supply chain.
HS2 rail minister Paul Maynard said: "Thousands of skilled British jobs and apprenticeships will be created by HS2, which gets a step closer as we reveal the companies shortlisted to build the high speed trains."
Providing a world-class passenger experience is at the heart of the requirements for the contract. The new trains will also serve destinations beyond the core HS2 network, including York, Newcastle, Liverpool, the North West, Glasgow and Edinburgh.
The HS2 project is Britain's biggest-ever investment in its railways, aimed at solving an overcrowding problem on existing south to northbound trains from London.