Deal or No Deal, advice from all corners directed at May at crucial EU summit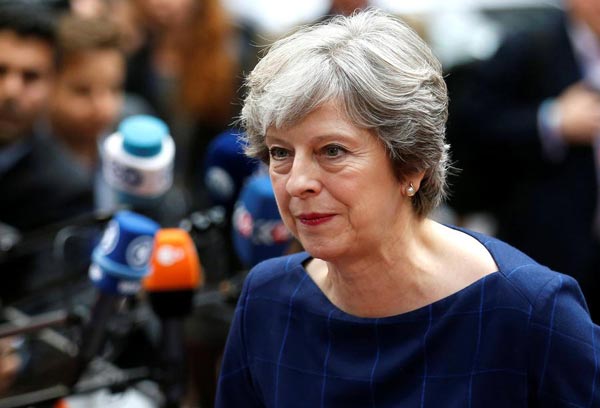 Britain's Prime Minister Theresa May arrives at the EU summit meeting in Brussels, Belgium, Oct 19, 2017. [Photo/Agencies]
LONDON - Co-founder and former leader of the pro-Brexit United Kingdom Independence Party (UKIP), Nigel Farage, accused Britain's main opposition leader Jeremy Corbyn of playing "divide and rule" by visiting Brussels Thursday.
The Labour politician was in the Belgian capital where he spent an hour talking with Michel Barnier, the chief negotiator tasked with brokering a European Union (EU) divorce deal with Britain.
The leaders of the bloc's 28 member states gathered in Brussels for a two-day summit, with British Prime Minister Theresa May among them to press home her bid for a good Brexit deal.
In London, some political commentators accused Corbyn's team of virtually gatecrashing the summit to spell out that the Labour party was against a "no deal" scenario, and waiting in the wings to take over the talks.
The Daily Telegraph said in a commentary: "If the timing of Corbyn's visit is designed as a deliberate snub to May, as a warning to her that an alternative negotiating team waits in the wings should she fail, then she should not allow such discourtesies to throw her off course."
The London-based Leave Means Leave campaign said a meeting between Corbyn and EU leaders before their audience with the prime minister was another calculated snub to Theresa May.
In a round of media interviews, Corbyn said Britain failing to reach a trade agreement with the EU would be "catastrophic" for British jobs.
He said in an interview with Sky News: "We cannot countenance the idea that we just rush headlong into no deal with Europe. No deal with Europe would be very dangerous for employment and jobs in Britain. The idea of no deal would mean that the World Trade Organisation rules would be implemented straight away in March 2019."
The newly-elected UKIP leader Henry Bolton accused the European Commission of having no intention of conducting reasonable negotiations with the British prime minister.
In London, meanwhile, there was support for the prospect of a "no deal" with a call to May from the Leave Means Leave campaign to walk away from the talks and quit Europe next March with no deal if trade talks stall.
"In the event of no progress at the European Council, the UK should formally declare that it is assuming that we will be subject to World Trade Organisation (WTO) rules from March 30, 2019," said the letter to May.
Senior figures from politics, including four former cabinet members, business, economics, law, science and the military have called in a letter for decisive action to dispel the highly damaging levels of uncertainty facing businesses across the country.
Foreign Secretary Boris Johnson said in a media briefing Thursday that Britain would do "very well", even if it has to leave the EU with no trade deal.
Speaking in London after a meeting with Mexican Foreign Minister Luis Videgaray Caso, Johnson predicted Britain would get a "great deal" in its Brexit negotiations.
But he added: "As with any negotiation you've got to be prepared to walk away. We have to prepare for every eventuality... I think we'll do fine."