Flying Tigers spirit lives on
The General Chennault Flying Tiger Academy officially opened its doors with a ribbon cutting ceremony on Thursday at Lone Star College in Conroe, a small city north of Houston.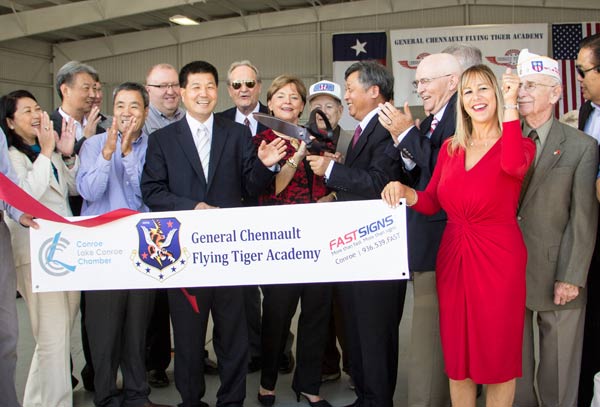 Consul General of China Li Qiangmin (fifth from right), former Flying Tiger pilots (in hats), General Chennault's granddaughter Nell Chennault Calloway (third from right) and other dignitaries cut the ribbon for the opening ceremony of the General Chennault Flying Tiger [flight] Academy. MAY ZHOU / CHINA DAILY
Nell Chenault Calloway, granddaughter of Maj Gen Claire Lee Chennault, who founded the Flying Tigers during World War II, said that the 2017 opening date commemorates the 80th anniversary of Gen Chennault traveling to China in 1937.
"My grandfather went to China 80 years ago," Calloway said. "He realized what he needed to do and started to train Chinese aviators. In 1941 he came back and recruited a group young men, formed the American Volunteer Group, later known as the Flying Tigers.
"If we can teach this history of the two countries we are able to inspire them and let them know that they can make a difference. This school will teach the history of the two countries. That will be part of the curriculum," added Calloway, who is also director of the Chennault Aviation and Military Museum in Monroe, Louisiana.
Calloway said the academy will teach flying in the spirit of her grandfather as expressed in his own words:
"It is my fondest hope that the sign of the Flying Tigers will remain aloft just as long as it is needed and that it will always be remembered on both shores of the Pacific as the symbol of two great peoples working toward a common goal in war and peace."
Consul General Li Qiangmin said that "the Flying Tigers are a symbol of China-US friendship deeply rooted in history. A friend in need is a friend indeed. The Chinese people will always remember the help provided by Chennault and his pilots."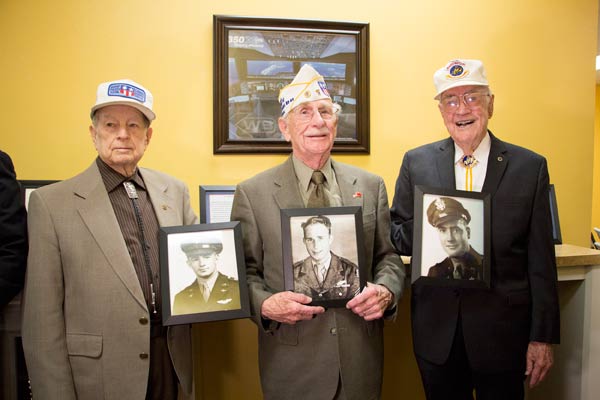 Holding photos taken during WWII, Flying Tigers pilots Jay Vinyard, Melvin McMullen and Leroy Parramore take a group shot when attending the General Chennault Flying Tiger Academy on Thursday in Conroe, Texas, a small city north of Houston. MAY ZHOU / CHINA DAILY
"I hope that General Chenault is forever remembered because he's a very historical figure," said Melvin McMullen, a member of the Flying Tigers who was present at the ceremony, as were Flying Tigers pilots Leroy Parramore and Jay Vinyard.
McMullen, a former pilot gunner, joined the Flying Tigers in 1944 and was stationed in Kunming and later in Chengdu.
"When I was in China my brother was a flight instructor in the US Army Air Corps," McMullen said. "There were Chinese soldiers brought in to learn. He said it's interesting that when I was in China under General Chennault, he was training young Chinese in America. Now we will train more Chinese pilots."
"The key to our success is bringing the military training process to the general aviation arena, producing pilots with the highest quality of integrity, safety and judgement," said Mo Rolfs, director of flight operations with the academy.
Rolfs is a former fighter pilot with the US Air Force 23rd Squadron, which absorbed the Flying Tigers after WWII.
Aaron Wang, the primary investor and CEO of the academy, said that the program will be able to shorten pilot training to six months through a military style of intensive training and employing the flying skills developed by Chennault.
"I am a great admirer of General Chennault," Wang said. "We Chinese should remember this history. I came from China and have lived in his hometown of Monroe for more than 30 years. I want to help anyway I can.
"Most proceeds from the academy will be turned over to the museum, because I hope the museum will go on and tell the story to future generations," Wang said.