Typhoon Lan lashes central Japan, killing 2 and disrupting transport systems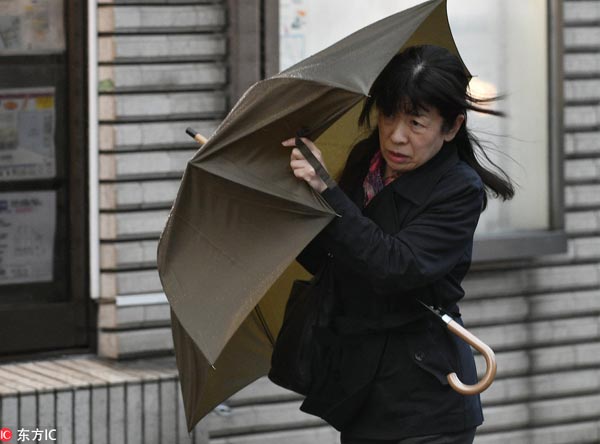 A woman uses an umbrella to shield herself from strong wind generated by typhoon Lan in Tokyo, Japan, Oct 23, 2017. [Photo/IC]
TOKYO - Two people were killed and transportation systems and businesses severely disrupted as Typhoon Lan lashed central Japan's Pacific coast after making landfall early Monday.
The Typhoon, with an atmospheric pressure of 950 hectopascals at its center and packing powerful winds of up to 198 kph, hit the Shizuoka Prefecture region of central Japan on the main island of Honshu at around 3:00 am local time.
According to local news reports, the 21st typhoon of the season left a trail of destruction, with rivers bursting their banks and landslides engulfing homes. The western region of Wakayama Prefecture saw as much as 800 mm of rain through a 48-hour period to Sunday.
According to the weather agency here, Mie Prefecture was also hard hit, with the powerful storm dumping 700 mm of rain through the same period, which also caused extensive flooding in parts of Nara Prefecture.
A 63-year-old man was killed after strong winds brought down scaffolding at a construction site in the city of Fukuoka, southwestern Japan. In Yamaguchi Prefecture, in western Japan, a 70-year-old man died after being forced to dive into the sea following his boat's engine failing.
In addition, a mudslide hitting a house in Wakayama Prefecture has left its occupant missing, according to local media reports.
Operations will be halted until Monday evening at Toyota Motor Corp.'s factories in multiple prefectures, including Iwate, Miyagi, and Gifu, local media quoted company representatives as saying.
Japan's two major airline carriers, Japan Airlines Co. and All Nippon Airways Co., canceled 350 flights on Sunday, and 170 flights on Monday. Some 43,000 passengers were affected by the cancellations.
Shinkansen bullet train services were suspended along parts of the Tokaido line, and some major arterial highways were also forced to be closed.
Evacuation orders were issued in some local cities and towns, and vote counting following Sunday's lower house election suspended until Monday in areas where access to polling stations was affected by the typhoon.
According to the Japan Meteorological Agency, Typhoon Lan will be downgraded to an extra tropical cyclone when it reaches east of Japan's northernmost prefecture of Hokkaido.