Hurun: Evergrande's Xu is China's new No 1 with $43bln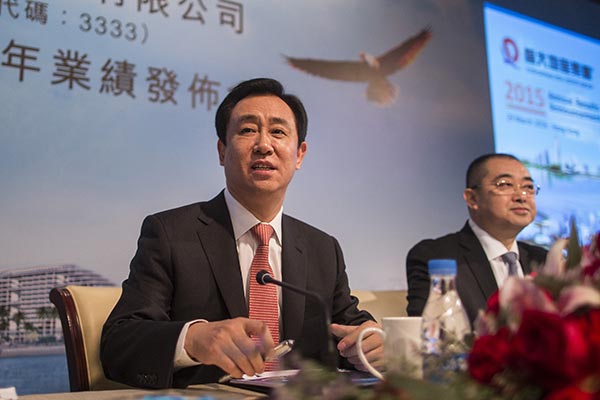 Xu Jiayin, left, chairman of Evergrande Real Estate Group. [Photo/Agencies]
The Hurun Research Institute today released the Hurun Rich List 2017 in association with China-based training platform 36G. This is the 19th annual ranking of the richest individuals in China. Wealth calculations are a snapshot of 15 August, the same date as previous years.
Rupert Hoogewerf, Chairman and Chief Researcher, Hurun Report, said:"It's been a very good year again, it's been a great year for making money in China. The top 100 have grown their wealth by 60%. We managed to find 2,130 people with US$300 million, total wealth USD 2.6 trillion, equivalent to the UK's GDP."
"China's entrepreneurs have come a long way. Back in 1999, when I put out the first list, I managed to rank 50 people. Today we have almost that number just from Alibaba! According to the latest records, Jack Ma's holdings in Ant Financial have sunk from 35% down to 1.2%, which is on a par with Ren Zhengfei's shareholding in Huawei. Had Jack Ma kept his 35%, he would have been China's Number One. The 'Big Two' are still from real estate and IT, however this year Xu Jiayin replaced Wang Jianlin, and Pony Ma replaced Jack Ma."
"It has been a good year for manufacturing, cars, education, TMT and healthcare. And there are so many new industries coming out. For example, if you look at the young guys, under 40s, 'Education King' Zhang Bangxin, 37, of TAL officially becomes the richest millennial after seeing his wealth triple to US$6 billion, followed by 'Drone King' Wang Tao, 37, of DJI Innovations. We even got one Dai Wei, who was born in 1990s, he is the man behind ofo bike sharing app, which is all over China, for those who come here regularly, you can see that. He's got US$450 million and he is only 26 years old and self-made as well."
"Keep watching this space and the whole status of Chinese entrepreneur in China is growing up, it's getting bigger and bigger. You go anywhere in the world, the Chinese entrepreneurs are seen as super wealth creators. There are more in China than anywhere else in the world, especially more than America even. So you should be watching, learning and understanding how these entrepreneurs are growing so fast. I feel very positive about it and I think that the trend will continue for the next few years."
There are 3 new entries to the Top 10: Yang Huiyan of Country Garden, Wang Wei of SF Express and Li Shufu & Li Xingxing of Geely. 4 made their money from IT, same as than last year, 3 are real estate tycoons. The cut-off to make the Top 10 increased 41%, to US$16.4bn. All would now make the Top 100 of the Hurun Global Rich List. Average age is 49, five less than last year. Half of the Top 10 are based in Guangdong, South China.
HurunEnglish