Protesters riot for third night in US city of St. Louis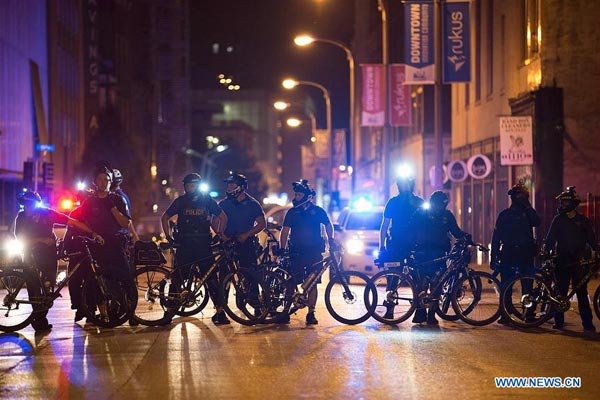 Police officers use bikes to block a street in St. Louis, Missouri, the United States, Sept 17, 2017. [Photo/Xinhua]
ST. LOUIS, The United States - Protesters smashed windows and other property in downtown St. Louis, Missouri, using baseball bats, concrete chunks, and even a makeshift metal spear Sunday night.
Riots in the city bordering Missouri and Illinois have entered a third night over the acquittal of St. Louis police officer Jason Stockley, who is accused of killing Anthony Lamar Smith, a 24-year-old black man, in 2011.
In this third night of riots, police confiscated guns, knives, a sword, pepper spray, and a shield from protesters. Police report that unknown chemicals were sprayed by protesters at police officers.
Protesters had spent much of the day disrupting city streets, marching from police headquarters to a local university. But by nightfall, much of the law-abiding crowd had dissipated.
More protests are scheduled for Monday and Tuesday.
Former police officer Stockley was found not guilty of first-degree murder and armed critical action on Friday, almost six years after the incident happened when he shot Smith five times after a high-speed car chase that ended with a collision.
Prosecutors said Stockley planted a gun on Smith, as Stockley's DNA was found on the gun but Smith's was not. Stockley maintains his statement that he was acting in self-defense.
Prior to the not-guilty verdict, Republican Missouri Governor Eric Greitens put the US National Guard on standby in expectation of demonstrations, deploying some troops at points of critical infrastructure.