Canada, Britain seeking closer trade cooperation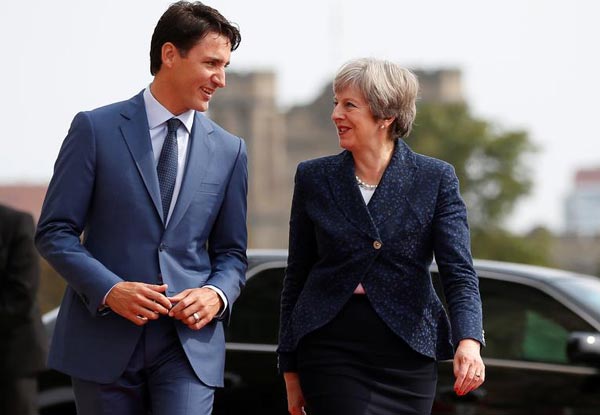 Britain's Prime Minister Theresa May (R) speaks with Canada's Prime Minister Justin Trudeau during a welcoming ceremony on Parliament Hill in Ottawa, Ontario, Canada, Sept 18, 2017. [Photo/Agencies] 
OTTAWA - Canada and Britain are working towards a new bilateral free trade deal after the United Kingdom leaves the European Union.
After their meeting Monday, Canadian Prime Minister Justin Trudeau and visiting British Prime Minister Theresa May told a joint press conference that they agreed to a smooth transition of the Comprehensive Economic and Trade Agreement (CETA) between the European Union and Canada after Britain leaves the EU and is no longer a party to that agreement.
The Canada-EU trade deal eliminates well over 90 percent of all barriers in trade between Canada and the European Union, and as such provides "an excellent basis for ensuring a smooth transition," Trudeau said.
CETA officially comes into effect on Thursday.
"After that, there will obviously be opportunities for us to look at particular details that could be improved upon for the specific needs and opportunities in the bilateral relationship between the U.K. and Canada," he said.
"But as a strong basis for a smooth transition, CETA is perfectly designed, and will be able to ensure -- for investors, for companies and for workers and consumers -- a smooth transition," added the Canadian prime minister, who will lead a Canadian delegation to attend the United Nations General Assembly on Tuesday.
May, who arrived here for one-day visit, said that using the Canada-EU agreement as the basis for a forthcoming new bilateral deal makes sense and would ensure the best path forward for all parties.