Chinese designer channels Inner Mongolian roots at avant-garde fashion show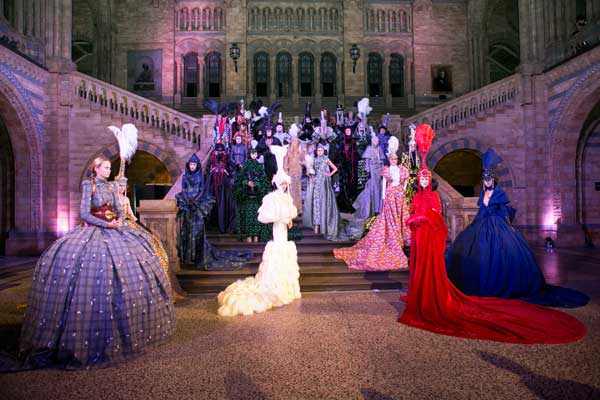 Models are wearing Hu Sheguang's collection at Haute Couture show at Natural History Museum in London. [Photo provided to chinadaily.com.cn]
Hu Sheguang, the Chinese fashion designer known for his avant-garde creations and performance shows, unveiled his latest collection at London Fashion Week.
Known for creations that are usually spectacular, Hu's latest collection paid tribute to his Inner Mongolian roots while drawing inspiration from the ancient Silk Road using black, gold, green and blue as his main colors for the season.
The Chinese-Dutch designer revealed it at a catwalk show at the Natural History Museum.
"The theme of this collection is the Silk Road," Hu said. "I chose this because China has seen rapid development in recent years. The China-proposed Belt and Road Initiative is also about showing Chinese culture to the world by promoting the culture of ethnic minorities."
While inspired by traditional Mongolian elements, the Chinese designer chose to use modern fabric and patterns to bring the culture from the past to the contemporary world.
Born in China's Inner Mongolia Autonomous Region, Hu moved to the Netherlands when he was 16 to study fashion design. He went on to create clothes for several Dutch and Chinese figures, including the Dutch Royal Family.
Since his return to China he has leaned toward incorporating more Chinese elements into his designs as well as striving to make unforgettable bold statements.
"My collection contains a lot of Mongolian elements," he said. "I've been living in Netherlands for more than 30 years so I know what Europeans love about China and what their expectations are."
The designer said while some Chinese shows viewed by Western audiences are about the qi-pao, his work "has more elements on ethnicity, more colors and are more exotic".
Hu is just one of the Chinese designers showing collections at London Fashion Week.
The haute couture designer said he believes Chinese talents are starting to make a huge impact in the creative industry.
"There has been an increasing number of great Chinese designers showing up," Hu said. "China is developing really fast so I think Chinese designers are going to spread all over the world in the very near future."
After running his business in China for around four years and also working in the Netherlands Hu is now focusing on how to "make Chinese clothes well-known in the world" and continuing creating designs relating to ethnicity and the Silk Road.
London Fashion week opened on Friday as latest figures showed that Chinese tourists collectively are the biggest spenders in the UK luxury fashion market, accounting for 23 percent.
Hu will have three major shows in Beijing before the end of the year.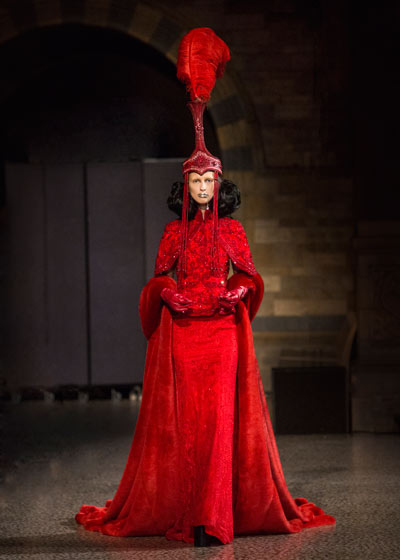 A model is wearing Hu Sheguang's creation during fashion show at Natural History Museum in London. [Photo provided to chinadaily.com.cn]