UN General Assembly opens 72nd session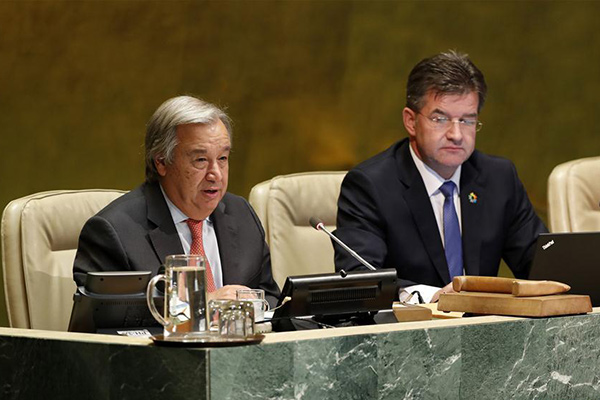 United Nations Secretary-General Antonio Guterres (L) addresses the opening of the 72nd session of the UN General Assembly at the UN headquarters in New York, Sept 12, 2017. [Photo/Xinhua]
UNITED NATIONS - Miroslav Lajcak, the new president of the UN General Assembly, on Tuesday declared the opening of the 72 session of the decision-making body of the United Nations.
In his opening speech to the first plenary session, Lajcak outlined his priorities for the year ahead: people at the center of work, balance of interests, quality of work and transparency.
"Sometimes the work of the United Nations can be very complex. But the reason for its establishment was simple: the United Nations was created for people. Its job is to help people who are striving for peace (to have) a decent life on a sustainable planet," he said.
He also highlighted the important upcoming events: an inter-governmental compact on migration, a high-level meeting on sustainable peace, the signing of a treaty on the elimination of nuclear weapons, a high-level meeting on sexual exploitation and abuse, as well as UN reform.
He stressed the importance of multilateralism. "I have always believed strongly in the power of multilateralism. This belief will be tested from time to time during the 72nd session, but ultimately I am confident that it will be reaffirmed."
The General Assembly is one of the six most principal organs of the United Nations, the only one in which all member states have equal representation.
The assembly has powers to oversee the budget of the United Nations, appoint the non-permanent members to the Security Council and make recommendations in the form of General Assembly resolutions.