UN officials: South-South Cooperation more important than ever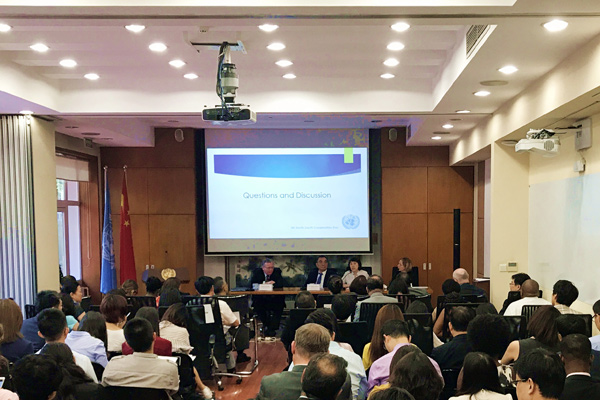 The United Nations in China hosted a commemorative event on Tuesday to mark the International Day for South-South Cooperation. [Photo by Zhang Yunbi / China Daily]
To mark the International Day for South-South Cooperation, the United Nations in China hosted a commemorative event on Tuesday, and highlighted the changing dynamics and increasing importance of South-South Cooperation in the context of the Agenda 2030 and the Sustainable Development Goals.
"South-South Cooperation is a key vehicle to achieve sustainable development. The scale and ambition of the SDGs (Sustainable Development Goals) calls for new actors to take on a much broader and more integrated role in development", Nicholas Rosellini, UN Resident Coordinator, said in his welcoming remarks.
"By focusing on resolving complex problems based on previously tested experiences in similar development contexts, developing countries can support each other by sharing more adaptive, locally relevant and usually cheaper solutions," Rosellini said.
Justin Yifu Lin, professor at Peking University, noted at a panel discussion that "China's development offers both opportunities and new concepts to other developing countries".
"Other countries can benefit from Chinas development, not only through China's increasing overseas investment and trade, but also through learning from China's experiences and by tailoring Chinese solutions to national conditions and contexts," Lin said.
Han Hongmei, chairwoman of China-Africa Fund for Industrial Cooperation, noted that the Fund is one of the key vehicles of China-African cooperation in manufacturing and infrastructure.
The Fund will continue to uphold "commitment, innovation, endeavor and win-win" as the core values to promote industrial cooperation between China and African countries, and to enhance the well-being of people living in African countries, Han said.
Around 100 participants from the government, diplomatic corps, international organizations, private sector and media attended the event.