Tibet builds escape route from poverty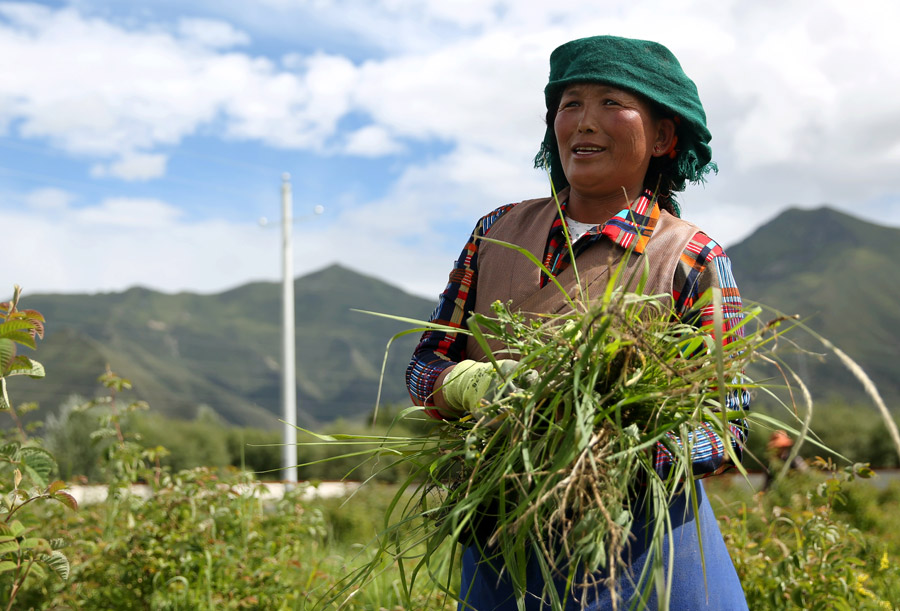 Pasang Drolma, 46, works on a farm near Duishigagyi, a newly built village in Chushul county. The farm is part of the government-backed Pure Land project. [Photo by HOU LIQIANG/CHINA DAILY]
Residents in remote villages relocate to new settlements with modern housing and jobs. Hou Liqiang and Daqiong report from Chushul.
Shopping for daily necessities used to be a luxury for Pasang Drolma. The nearest store was in a town 30 kilometers away, and she only had the time to make the journey twice a year.
As no public buses ran though her isolated village in the Tibet autonomous region, to get there she would have to wait beside a dirt road for up to an hour to flag down a private minibus or taxi service.
That was until the end of last year, however, before the 46-year-old mother moved to Duishigagyi, a new village in Chushul county built specially to give impoverished families a fresh start.
So far, 365 households-roughly 1,700 people-have been resettled in the area as part of an ongoing poverty alleviation program. Residents enjoy convenient public transportation links, and "now we live in a spacious and much more comfortable new house", Pasang Drolma said.
Pure Land, a regional government-sponsored agricultural project nearby, has also provided a range of employment opportunities.
Due to unfavorable weather and soil conditions in their old village, Pasang Drolma and her husband had barely been able to grow enough grain to feed themselves. The family's only income was the 7,000 yuan ($1,070) a year their eldest son made working as a restaurant waiter in Lhasa, the regional capital.
Pasang Drolma and her youngest son now earn 100 yuan a day doing farmwork at Pure Land. "We don't have to work every day, we just work when we want," she said. "We made more than 10,000 yuan in the first half of this year."