Britain, EU announce date of next round of Brexit talks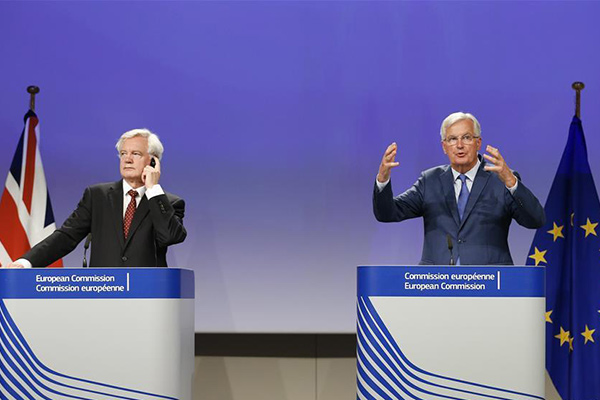 British Brexit secretary David Davis (L) and European Union (EU) chief negotiator Michel Barnier attend a joint press briefing in Brussels, Belgium, Aug 31, 2017. [Photo/Xinhua]
LONDON - The British government and the European Union (EU) on Tuesday afternoon announced they would start the fourth round of Brexit negotiations on September 25.
A spokesperson for the British government said: "Both sides settled on the date after discussions between senior officials in recognition that more time for consultation would give negotiators the flexibility to make progress in the September round."
The September 25 date marks a postponement of one week in agreed timetable of talks by the two parties as they work out how Britain will leave the EU, a move precipitated by the referendum on EU membership held in Britain in June 2016.
The Independent newspaper website in Britain reported that it believed British Prime Minister Theresa May was likely to make an important speech on Brexit talks on September 22.
May's Cabinet contains advocates of both a Hard Brexit, with no retention of current trade and legal rights but instead a new agreement, and also supporters of a Soft Brexit.