Brexit law passes hurdle in reprieve for British PM May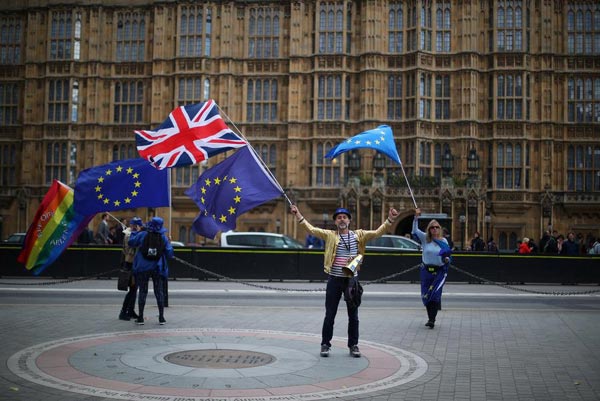 Anti-Brexit protesters wave flags in front of the Houses of Parliament in London, Britain, Sept 11, 2017. [Photo/Agencies]
LONDON - Britain's parliament backed a second reading of legislation to sever ties with the European Union early on Tuesday, a reprieve for Prime Minister Theresa May who now faces demands by lawmakers for concessions before it becomes law.
After more than 13 hours of speeches for and against the legislation, which May says is essential for Brexit but critics describe as a Conservative government power grab, lawmakers voted 326 to 290 in favour of moving the EU withdrawal bill, or repeal bill, to the next stage of a lengthy lawmaking process.
Many fell in step with the government which said a vote against the legislation would force Britain into a chaotic exit from the EU, rather than a smooth departure, as the country would lack laws and a regulatory framework to steer the process.
May, weakened by the loss of her majority in a June election, now faces a battle against politicians who want to force amendments to the bill, first in the lower house of parliament and then in Britain's unelected upper chamber.
"Earlier this morning parliament took a historic decision to back the will of the British people and vote for a bill which gives certainty and clarity ahead of our withdrawal from the European Union," May said in a statement.
"Although there is more to do, this decision means we can move on with negotiations with solid foundations and we continue to encourage MPs (lawmakers) from all parts of the UK to work together in support of this vital piece of legislation."
Her justice minister urged lawmakers to back the bill and signalled that the government would listen to the concerns of lawmakers despite describing some of their criticism as being "exaggerated up to and beyond the point of hyperbole".
The bill seeks largely to 'copy and paste' EU law into British legislation to ensure Britain has functioning laws and the same regulatory framework as the bloc at the moment of Brexit, to offer some reassurance for companies.
Reuters