Fashion meets traditional Chinese craft at UK show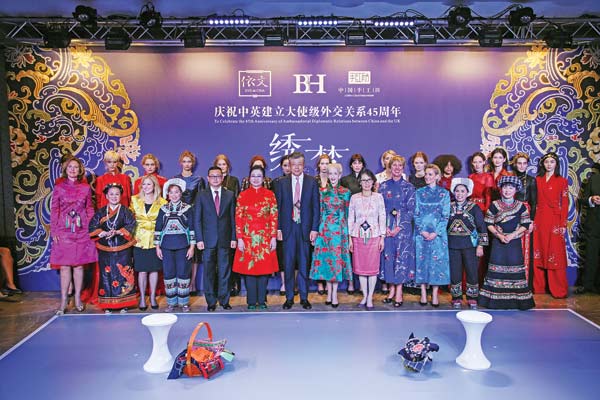 Liu Xiaoming (middle), China's ambassador to the United Kingdom, joins models, seamstresses and organizers after the Weaving a Dream fashion show at the Chinese embassy in London on Monday. [Photo/chinadaily.com.cn]
The craft of seamstresses from Guizhou province in the Southwest of China was in the spotlight at a fashion show hosted at the Chinese embassy in London.
The 45 pieces of clothing at the Weaving a Dream event were a fusion of Western fashion and Eastern motifs inspired by traditional embroidery from the mountainous region.
The clothes were decorated with floral embroidery stitched by ethnic Buyi seamstresses.
The idea of showcasing the craftsmanship of the seamstresses came from Xia Hua, chairperson of China's Eve Group, and Barbara Judge, an American-British businesswoman and chairman of the Institute of Directors.
Xia and Judge established B&H, a project that aims to improve the lives of Chinese women in remote regions by supporting their handicraft.
"We can truly help these seamstresses to eventually change their lives," Xia said. "The most important reason for coming to the UK this time is that there are so many creative designers here, and I sincerely hope that they can cooperate with our embroiderers. The most important thing about taking Chinese culture overseas is that we can show our own beautiful products with our unique aesthetic attitudes, and such products should have commercial value."
Xia and Judge also hope to provide a platform for Sino-UK cultural exchanges and cooperation.
Judge said: "We can show the world that this culture, this craftsmanship, has been preserved over all these years, and we can make it a sustainable model so that we can support the ladies. People understand how beautiful Chinese art is, and how wonderful the history is, and how it is the right time to bring the UK and China closer together."
Liu Xiaoming, China's ambassador to the UK, said the fashion show offered a great opportunity to Chinese seamstresses to step out of the remote mountains where they live and to share their stories.
"The younger generation of seamstresses is working hard to keep the Buyi minority traditions alive, including unique embroidery techniques, folk crafts and costume-making … They are here to demonstrate the beauty and appeal of their very unique culture," Liu said.
The ambassador said he believes the seamstresses' dream represents the aspiration and efforts of the people of Western China to shake off poverty and build better lives.
"Guizhou is a relatively poor province in China," he said. "But this special skill can not only save our traditional crafts, but alleviate poverty. It's a win-win situation."
He added that the fact that the seamstresses are able to weave in London is a great accomplishment from the exchanges and mutual learning between Eastern and Western civilizations.
On Tuesday, Hu Pinghua, the wife of the Chinese ambassador, hosted an exhibition of traditional handicraft from the deep mountainous region at their residence to share the exquisite embroidery and remarkable story of the seamstresses with a group of British and Chinese guests.
Li Wensha in London contributed to this story.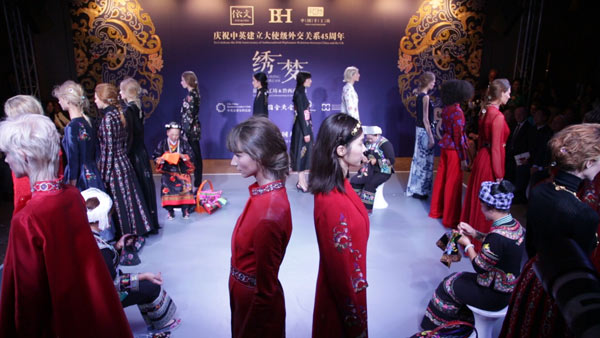 Models and seamstresses on catwalk of Weave a Dream fashion show. [Photo/chinadaily.com.cn]