Directoral debut gains selection at festival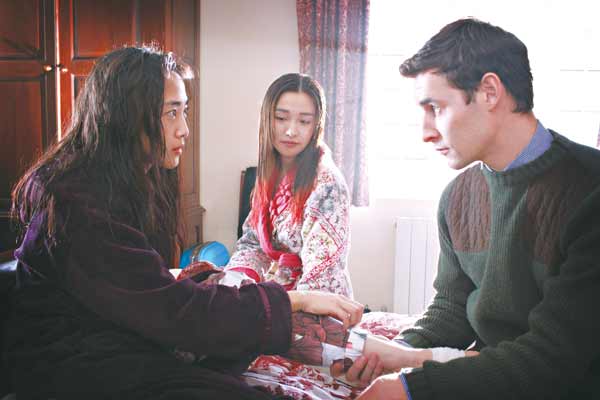 A scene from the film Susu. [Photo/China Daily]
The debut film directed by a London-based Chinese director will be vying for a major honor at a prestigious film festival early next month.
Susu, written and directed by Sun Yixi, will premiere at the 41st Montreal World Film Festival where it has been selected to appear in the First Film World Competition section.
The film combines cultural elements from both China and the UK, reflecting the personal experience of the director Sun, who was born and raised in Beijing and later moved to London to study and work.
Having long admired the style of British independent film-making in 1960s and 1970s-keen psychological observations, complex characters and smart storylines with a poetic soul-Sun said she aimed to capture her own experience of living far away from home and knowing people from different places.
The result is Susu, which recounts the story of two Chinese students who have been offered a weekend job at an old mansion in the English countryside. Employed to transcribe some archive footage of Chinese Kunqu Opera, they discover the gruesome secrets of the English family, but they too have their own secrets.
Such a story is originated from Sun's observation after seeing many cohorts of international students, just like herself, stepping innocently into the outside world with little knowledge of what awaits them.
"They just began to attract greater world attention after they left home," she said."However, they were not prepared for the outside world and the potential dangers that were waiting for them."
The film is infused with suspense and plot twists, a style which is a precise mimic of the uncertainty that the characters are facing, she said.
Prior to making the film, Sun had many years of experience working as an editor on commercial advertising and documentaries. She also accumulated extensive experience in film programming as the founder of the Filming East Festival UK since 2007.
Sun said: "I am curious and passionate about all areas of film and the film industry, indeed I crafted the film with a committed 'cinema fan' attitude."
The producer Norman J Warren said that the Montreal World Film Festival is just the start of the journey on the festival circuit for this film.
"Many will not only enjoy the different cultural themes, relationships, and the thrilling and sometimes shocking elements in Susu, but will also reflect on the frailties of human nature, which we hope will provoke some thought with our audiences," he said.
The Montreal World Film Festival runs from Thursday to Sept 4.