Chinese jade inspires Durham museum visitors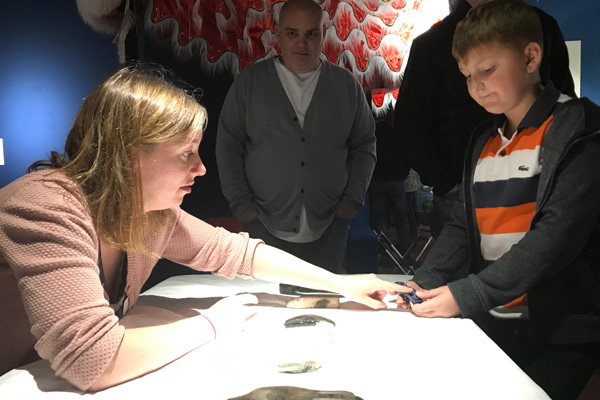 Charlotte Spink, Oriental Museum's access and community engagement officer, talks with children about ancient Chinese jade culture during hands-on public event on Wednesday. [Photo by Lei Xiaoxun/chinadaily.com.cn]
Ancient Chinese royals and dignitaries could not imagine their beloved burial treasures becoming today's teaching tools for British youths in northeast England, more than 8,000 kilometers from home and 2,000 years after their death.
The Oriental Museum of Durham University on Wednesday organized a public event called Chinese Tombs where visitors, mostly local families with curious children, can lay their hands on genuine archaic Chinese jade carvings dating as far as the Western Han Dynasty (206 BC-24 AD).
Marvelling at the "cold, soft but somewhat smooth" touch of the objects, museum goers tucked into the rich heritage of ancient Chinese jade culture with help of the museum's staff.
Items on display include jade carvings of human hands, feet and faces, which are rarely seen in other public museums or private collections.
Jades of cicada, horse, pig and dragons drew most of the attention due to their shape and quality.
Charlotte Spink, the museum's access and community engagement officer, encouraged adults and children to grab any item that particularly interest them and ask how it felt and what they like about the item. She then started explaining the rarity of such stones in China due to Chinese people's long tradition of seeing jade as magic and precious.
"People who are very rich bury with them such jade pigs when they die," she told 8-year-old Maudie, who has a sleek jade pig carving in her hand. "It (pig) represents prosperity and fertility in ancient China," Spink added.
Craig Barclay, curator of the museum, said the museum has been dedicated to connecting the United Kingdom and China through its collection of Chinese cultural relics. Activities such as Chinese Tombs and other events are part of the museum's endeavor to achieve that goal.
The museum has dedicated its underground exhibition space as well as a quarter of the upper floor to ancient Chinese antiques and artefacts, an effort which underscores what Barclay called a strong connection between the museum and the China-led Belt and Road Initiative.
The museum's collection includes ancient Chinese bronze ware and porcelain but the museum singled out jade items for the hands-on event because they are difficult to break and people can hold it in their hands without putting on gloves, said Spink.
Durham University's Oriental Museum is a leader in introducing cultural relics to ordinary people to help build a link between them.
The outcome is apparent. "It's amazing," said Maudie. "These things are 3,000-year-old and they are beautiful," She said she'd like to visit China in the future.
The museum is also partnering with the Palace Museum in China on excavation, research and study in the Cining Place inside the Forbidden City.
A team of archaeologists carried out a dig alongside colleagues from the Palace Museum in May this year.
The cooperation is the first between the Palace Museum and an English university.
Contact the writer at leixiaoxun@chinadaily.com.cn