Alibaba founder inspires African youth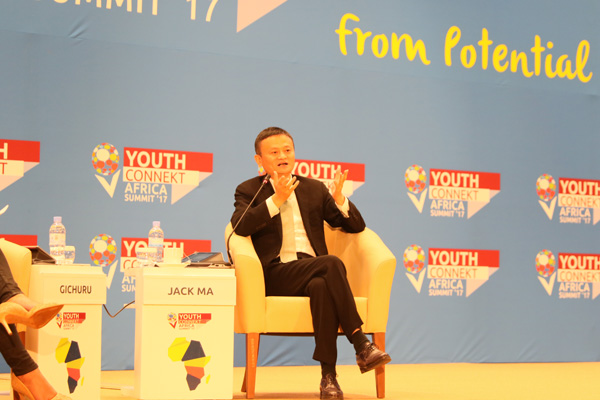 Jack Ma gives entrepreneurial insights during the Youth Connekt Summit in Kigali, Rwanda, on July 21. [Photo by Liu Hongjie/chinadaily.com.cn]
Jack Ma, founder and executive director of the Alibaba Group, announced the launch of three company-based projects aimed at empowering African youth on July 21.
Ma, who also doubles as the United Nations Conference on Trade and Development (UNCTAD) special advisor on youth entrepreneurship and small business, made the announcement during the Youth Konnect Africa Summit held in Kigali, Rwanda.
Expressing his strong believe about how Africa is the hope and solution for global sustainable economy, Ma said his company was committed to empowering young entrepreneurs to drive the change.
He said the Alibaba Group will sponsor 200 young African entrepreneurs to study e-commerce at its headquarters in the East China's Zhejiang province, Hangzhou city.
"Entrepreneurs will use acquired knowledge and skills to develop their businesses as well as share knowledge with other young entrepreneurs," Ma said.
He added the entrepreneurs would also get the precious opportunity to interact closely with Alibaba's staff, as well as get first-hand experience on how the company operates. Ma said this would play a critical role in demystifying some of their major challenges they have been encountering in an effort to build online businesses.
"From their visit and trainings, if the young entrepreneurs understand what they want to do as far as growing their businesses is concerned, then we will come in to support them," Ma said.
He added the company would also work with several African universities in collaboration with governments to develop training programs on e-commerce, the internet, big data and cloud computing.
"The objective is to train as many young people as possible across Africa," Ma said.
"We are currently negotiating with several universities."
In addition, Ma added he would personally contribute $10 million to establish a development fund aimed at supporting young entrepreneurs to execute their ideas.
"I decided to contribute the money from my own pocket as way to demonstrate the confidence I have in Africa," he said.
"The money is already in place. We are now working at getting the team."
Ma confirmed the other project will involve the launch of conservation awards for rangers in an effort to promote wildlife conservation in Africa.
Throughout the program, 50 African game rangers will receive cash awards annually for the next 10 years in a bid to motivate them to do their best in protecting environment.
The project will be spearheaded by a China-based nonprofit organization, Paradise International Foundation, an environmental group Ma and Zeng Fanzhi, a contemporary Chinese artist, co-founded in April 2015.
"We are committed to investing in Africa's human capital without looking at how Alibaba is going to benefit," Ma said.
"Our aim is to empower young people and give them hope in running successful businesses online businesses despite their current situations."
He also added any company not connected to the internet was doing worse than 100 years ago.
"I urge all companies in Africa, including the small and medium enterprises, to be connected to the internet," he said.
"It's the only way they are going to grow and even survive.
"Kenya and Rwanda, the two countries that I have visited so far, have high speed internet. Young people should take advantage of the internet to create online businesses."