The timeline of abduction case of Chinese scholar Zhang Yingying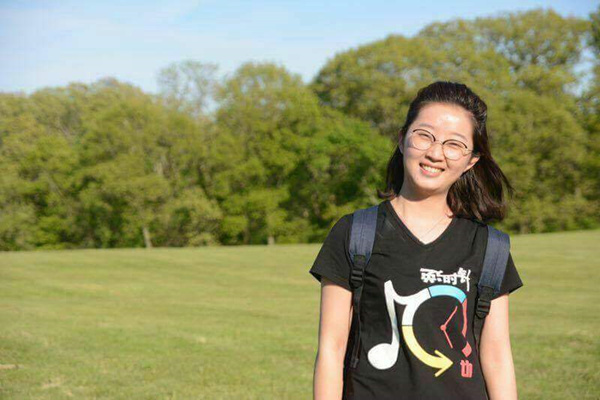 A photo of Zhang Yingying released by the police. Provided to chinadaily.com.cn
Editor's note: The disappearance of Zhang Yingying, 26, a visiting Chinese scholar at the University of Illinois at Urbana-Champaign (UIUC), has drawn attention from from home and abroad.
Brendt Christensen, the accused kidnapper of Chinese scholar Zhang Yingying, pleaded not guilty to charges against him on Thursday during his arraignment at a federal court in Midwest US state of Illinois.
Here is a timeline of this abduction case.
June 9: Zhang Yingying goes missing on the way to sign the lease on an apartment.
June 10: Police trace the signal on Zhang's cellphone to the Illinois Terminal on the day she disappeared. Volunteers make inquiries among taxi drivers and one reports a possible sighting of Zhang. However, CCTV footage and a police dog search reveal nothing.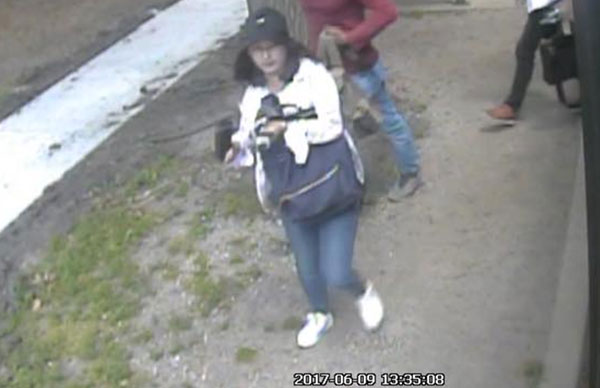 June 11:
Images released by the university's police department show Zhang boarding a bus at 1:35 pm and getting off at 1:52 pm. She has short hair and is about 5ft 3in tall. She is wearing a charcoal-gray hat, round glasses, a white/pink flannel print long-sleeve shirt, blue jeans and white shoes and is carrying a navy-blue backpack.
June 12: The UIPD releases a video of Zhang standing on the east side of Goodwin Avenue when a black Saturn Astra stops beside her on the road. Zhang and the driver appear to have a short conversation then she gets into the passenger seat. The car moves off north along the avenue.
June 14: The FBI say they are investigating the disappearance as a kidnapping, adding that the car "appeared to be driven by a white male and circled the area prior to making contact with Ms Zhang".
June 15: Zhang's family, friends and the university issue a public appeal for information:
Looking for Yingying Proposal
Dear all,
FBI announced yesterday (Jun 14) that Yingying Zhang's missing is a kidnapping case and it appears that the suspect is a white male. Since Yingying Zhang has been missing for 5 days since June 9, it is possible that the suspect has gone to other states in the US. We sincerely and eagerly ask for your help! Please help us spread the flyer from FBI and ours through online social media (Facebook, Twitter, etc) as widely as possible, and print the flyers to post and distribute it in your local community. We greatly appreciate any of your help and action! Let's pray for Yingying's safe return!
Yingying Zhang's family, her friends, and UIUC CSSA June 15, 2017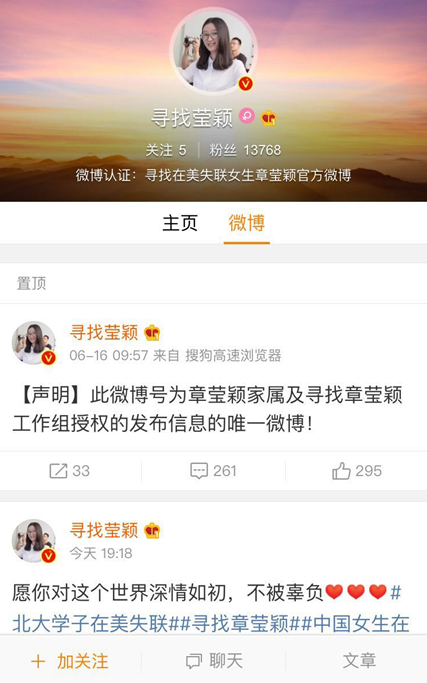 The weibo account of Zhang Yingying's family.
The FBI, meanwhile, launch a search for the driver. In a statement, the bureau says: "We have used vehicle records to identify a list of people who drive that make and model vehicle, and we're speaking to people who drive that kind of vehicle. "Since Ms. Zhang disappeared, we have spoken to at least one person who reported that, and we gathered valuable information about that encounter. At this point, we do not have information to say definitively that it is connected, but we also cannot rule it out. It is among the scenarios which we are investigating."
June 17: The FBI offers a reward of up to $10,000 for information leading to Zhang's location. Zhang's family arrive in the US and are escorted to Champain by consulate staff, given accommodation and discuss the case with police and the university. The university launches a GoFundMe campaign "to cover the family's living expenses during their time on campus".
June 19: Zhang's family and the university hold a press conference and announce that they are working with Champaign County Crime Stoppers to offer a reward of up to $40,000 for information leading to an arrest in Zhang's disappearance.
June 22: FBI Assistant Special Agent in Charge Jon Holloway says the bureau "has made this case a top priority nationwide". Investigators express again that, though they wish they could divulge more information about the case, they cannot comment on specific details of the investigation in order to protect its integrity and maintain the best possible chance of finding Zhang. UIUC Police Chief Jeff Christensen says "the department has also enlisted every available technological and human resource to work the case".
Zhang's family issue a statement: "We all miss you very, very much and we ask Yingying, never ever, ever give up and we will forever find you."
June 27: The FBI announces that investigators have located the black Saturn Astra they suspect was used in Zhang's abduction. FBI spokesman Brad Ware refuses to confirm where or when the car was found but says: "We continue to ask the public for information that could lead to locating Ms. Zhang. The FBI continues to offer a reward of up to $10,000 for information leading to the location of Yingying Zhang. "
June 30: The FBI says that suspect Brendt Christensen, 28, a former physics student at UI, was captured on an audio recording while under law enforcement surveillance explaining how he kidnapped Zhang. According to the FBI, Christensen stated that he brought Zhang back to his apartment, where he held her against her will. However, Zhang remains missing and based on other facts uncovered during the investigation of this matter, "law enforcement does not believe Ms Zhang is still alive".
July 1: In a picture posted online, the suspect is seen participating in a parade praying for Zhang's return. According to FBI's monitor, the reason why the suspect showed up in the pray for Zhang's return was that he was looking for new objects. He also explained what kind of people is the ideal type of victims in the audio.
July 3: Christensen appears in court. According to ABC 7 Chicago: "... During the nine-minute hearing, Christiansen did not speak other than to acknowledge to the federal judge that he understood his rights. US Magistrate Eric Long ordered Christensen to return to the court in Urbana on Wednesday to determine bond. "
July 5: The judge rules that Christensen be held without bail, meaning he will remain in custody indefinitely through the court proceedings, according to the UIPD.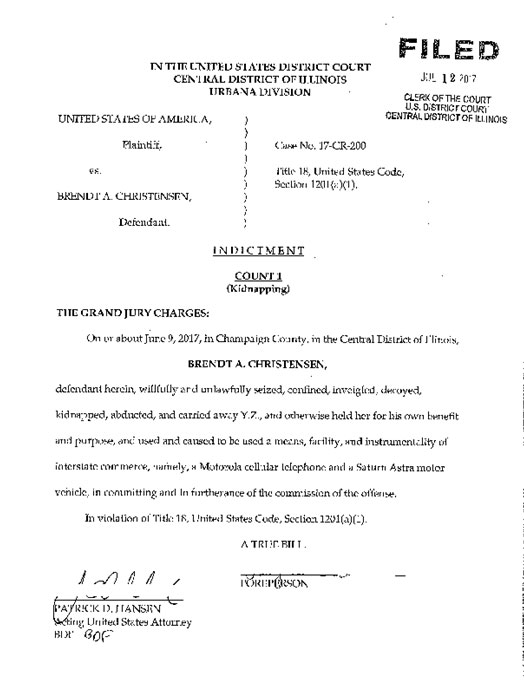 July 12: A federal grand jury indicts Christensen on charges of kidnapping. The Acting US Attorney Patrick D. Hansen and FBI Special Agent in Charge Sean Cox announce the indictment in a press release. The US Attorney's Office says: "The date for arraignment for Christensen will be scheduled by the US Clerk of the Court in Urbana. A preliminary hearing that had been scheduled on July 14, has been cancelled." He is scheduled to be arraigned on July 20 in Urbana, Illinois.
July 14: Zhang's family lifted the reward for information leading to an arrest in Zhang's disappearance to $50,000 on Champaign County Crime Stopper. Zhang's family: "…In hopes that someone, somewhere has information on where to find Yingying, we are increasing the reward for information about her location up to $50,000. We would consider additional reward, if anyone can bring her back safely…"
July 20: Christensen who was charged of kidnapping Chinese visiting scholar Zhang Yingying pleaded not guilty during the arraignment in a federal court in Urbana, Illinois. The trial for Brendt Christensen, of Champaign, Illinois, was set for Sept 12.