Alleged kidnapper of Chinese scholar denied bail
By Wang Linyan and Zhang Ruinan in Champaign, Illinois | chinadaily.com.cn | Updated: 2017-07-06 10:16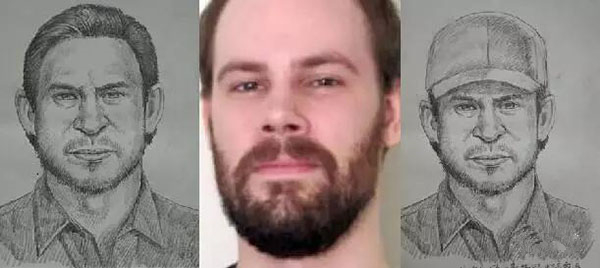 Brendt Christensen (middle) , the 28-year-old Illinois man charged with kidnapping Zhang Yingying, and the two images sketched by Lin Yuhui. [Photo/People's Daily Online]
Brendt Christensen, charged with kidnapping a visiting Chinese scholar, was denied bail on Wednesday by a US federal judge in Urbana, Illinois.
During a hearing in the District Court for the Central District of Illinois, US Magistrate Eric Long said that Christensen, 28, presented a danger to the community and was a flight risk.
Christensen, who has a master's degree in physics from the University of Illinois, was arrested on June 30 on a charge of kidnapping Zhang Yingying, a 26-year-old student at the same school.
Zhang has not been found, and police believe she is dead. Sunday will mark one month since her disappearance on June 9, when she got into a car allegedly driven by the defendant.
According to the criminal complaint made public at the hearing, Christensen made statements about the characteristics of the ideal victim while he was under surveillance at a vigil for Zhang on June 29. There's audio of him describing how Zhang fought and resisted after he brought her back to his apartment in Champaign. He also threatened another person to whom he made the incriminating statements.
"The facts speak to the very danger the defendant presents to the community," Assistant US Attorneys Bryan Freres said. "The circumstances of the case indicate the defendant used violence."
Liu Jun, acting consul general in Chicago, said he spoke to the FBI after the hearing on Wednesday and requested the bureau step up efforts to find Zhang as soon as possible.
"This is the most urgent thing at the moment," Liu said. "They have put in the best detective experts and have been working on the case around the clock."
The University of Illinois Police Department, the Illinois State Police and local police also are investigating the case.
"In a case like this, it's not unusual for bail to be denied," Evan Bruno, Christensen's attorney, said outside the courthouse.
In arguing for bail, Christensen's attorneys said that keeping their client in the Macon County Jail, which is about an hour away, was a disadvantage to his defense.
"We just wanted the judge to take that into consideration when determining whether this defendant would have the ability to meet with us and work on his case," said Tom Bruno, also an attorney for Christensen.
"It's not real evidence at all yet," said Bruno when asked about the case against Christensen. "One of the founding principles of the American system of justice is the right to confront and cross-examine witnesses against you… We're entitled to test that evidence to see if it's reliable."
Members of Zhang's family attended the hearing on Wednesday and an initial hearing on Monday. Christensen remained silent during the proceedings.
A preliminary hearing has been scheduled for July 14, but that could be waived if the grand jury returns an indictment before then.
Wang Zhidong, an attorney representing Zhang's family members, said the ruling on Wednesday was what the family had expected.
"I believe the judge made the right decision, which also comforted the family," Wang said.
Mike Judge, 63, a local Uber driver, said the kidnapping has raised concerns in the community.
He said some of his customers who are Chinese students, along with other students, mention it every day.
"I know lots of people really who are so worried about it. It makes people really nervous about getting in a car somebody's stopping, if they don't know who they are," Judge said.
"It's extremely sad," he said. "It's really kind of rare that things like this happen here. It makes everybody who lives in the whole area disgusted. I think everybody still hopes this girl is still out there somewhere, and they can at least find her," he said.
Kathleen Hu, a Chinese-Canadian engineering student at Illinois, said she and her friends have discussed their concerns about the case.
"It's a big deal, because usually we think the campus is a safe place, but things like this happening ... cannot easily be foreseen," said Hu, who was born in Chengdu and is in her fourth year at the university.
Hu said her parents were "a lot more worried. They tell me to be more careful, come home earlier," adding though that she hasn't changed her routine much.
Hu believes the case will influence international students attending the university, a top destination for overseas Chinese students in the US, "because parents will be more afraid of this situation".
Kevin Li, 25, a computer science student from Wuhan, Hubei province, said that Chinese students should not skip campus safety orientation meetings.
"Most Chinese students don't attend orientation, but it's necessary," he said.
Han Shihao, a recent graduate of the University of California-San Diego, said it's important for students to be wary of entering strangers' vehicles.
"The FBI is doing what they should do," he said. "Despite the fact that people think they are doing it slowly, I think it's because it's hard for them to find evidence."
"They will have high efficiency when they have evidence or information," he said. "I still have faith in the FBI and local law enforcement agents."