Top leaders support soccer partnership
President Xi Jinping (C, front), his wife Peng Liyuan (L, front) and German Chancellor Angela Merkel (R, front) watch a friendly football match between Chinese and German youth teams in Berlin, capital of Germany, July 5, 2017. [Photo/Xinhua]
Xi and Merkel attend young people's match, an extension of a training camp
The presence of President Xi Jinping and German Chancellor Angela Merkel at a Wednesday youth soccer match featuring players from both countries indicates the leaders' commitment to strengthening their soccer partnership, according to a senior German soccer official. The match was held at Olympic Stadium in Berlin.
Friedrich Curtius, secretary-general of the German Football Association, said the exhibition match is part of a soccer camp organized by both nations in Berlin for Chinese youth players.
Curtius said both sides consider the camp an excellent example of cooperation in talent promotion and education.
"The interest shown by Xi Jinping and Angela Merkel proves that both governments stand behind the two football associations. We are very glad to receive such an encouragement, which serves as motivation for us to continue working hard to achieve the cooperation project's goals," said Curtius.
China and Germany entered into a soccer partnership last year, and "putting our signatures on the partnership agreement was a great moment," he said.
"I am firmly convinced that we can make a major contribution toward making President Xi Jinping's great Chinese football dream come true," Curtius said.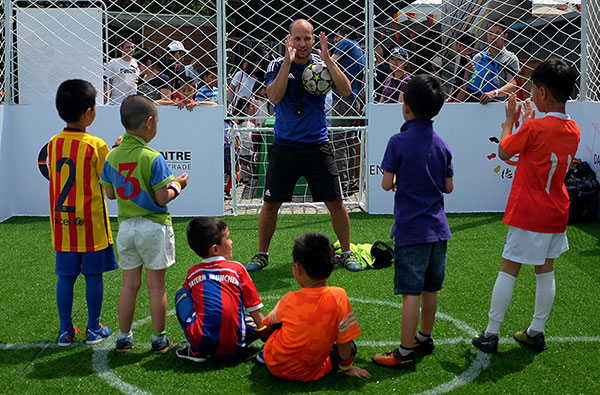 A German coach instructs young players at the China-Germany Football Friendship event in Beijing in June. ZHANG YUWEI/XINHUA
Volker Heun, founder and CEO of Invest in Football GmbH in Duesseldorf, said the soccer partnership shows the closeness of the relationship, which has paved the way for Germany to help China become a soccer power by transferring know-how.
"Under the national framework of cooperation, I believe many new opportunities will occur," said Heun, also the author of a book on China's soccer and business, which has been translated into Chinese.
Heun said he thinks training young players should be a crucial part of the cooperation between China and Germany, a country that is successful in forming teams and identifying promising players.
"We must try to explore opportunities by training boys at age 7 or 8," Heun said.
Heun and his business partners are launching the Sino-German Football Academy for Youth Players to do that. "We are in the process of selecting our Chinese investors," he said.
The academy will target youths from second-tier leagues, soccer schools and second-or third-tier cities in China. "We are not going to target the first-tier leagues as they have already forged sound ties with football powers, and our strategy is to help those that are hidden stand out," Heun said.
Heun said the academy is expected to open branches in both China and Germany to train 50 to 200 boys at a time.