US Senate healthcare bill would slash Medicaid, keep taxes on wealthy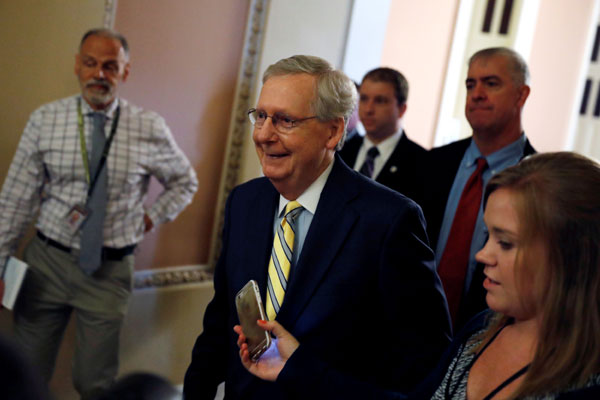 Senate Majority Leader Mitch McConnell speaks with reporters about the Senate health care bill on Capitol Hill in Washington, US, July 13, 2017. [Photo/Agencies]
July 13 - Senate Republican leaders released an updated version of their healthcare bill on Thursday that would dismantle Obamacare after an attempt to bring an earlier version of the legislation to a vote fell apart amid an intraparty revolt.
The new version of the bill did little to assuage concerns of moderate Republicans, who worried that its deep cuts to Medicaid would harm their most vulnerable residents. Two Republican senators said they would not even vote to open debate on the bill. Senate Majority Leader Mitch McConnell can only afford to lose two of his party's 52 Republicans, with Vice President Mike Pence ready to cast a tie-breaking vote.
The Senate added a number of changes to the bill in an attempt to win more support. Here are the main provisions of the new version of the bill:
SKIMPIER INSURANCE PLANS
The bill contains an amendment from conservative Republican Senator Ted Cruz that would allow insurers to sell stripped-down, low-cost insurance plans that do not comply with Obamacare's requirement that insurers cover a set of 10 essential health benefits. Those benefits include maternity and newborn care, mental health services and addiction treatment, outpatient care, hospitalization, emergency room visits and prescription drugs.
Insurers are strongly opposed to the amendment, which they say would raise insurance premiums for sick people, destabilize the individual insurance market and undermine protections for those with pre-existing medical conditions.
Senior Republican Senate aides said the nonpartisan Congressional Budget Office (CBO) would assess a version of the legislation with the amendment, and one without it.