Trump hints at future talks on Paris climate accord, division still deep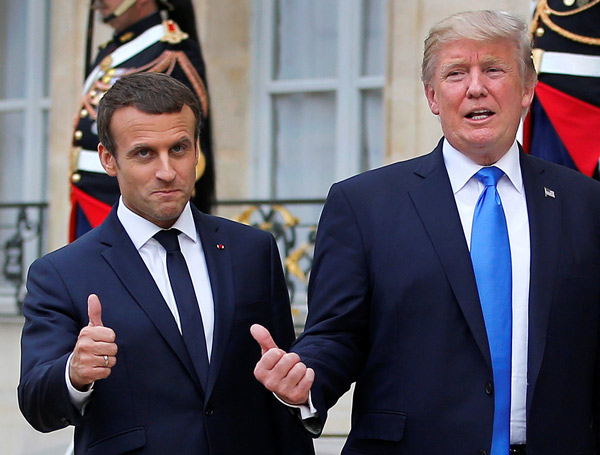 French President Emmanuel Macron and US President Donald Trump react in the courtyard after a joint news conference at the Elysee Palace in Paris, France, July 13, 2017. [Photo/Xinhua]
PARIS - US President Donald Trump on Thursday hinted a possible change in his position over the Paris climate accord from which he withdrew weeks ago.
"Something could happen with respect to the Paris accord, let's see what happens," said Trump.
"We will talk about that over the coming period of time and if it happens, that will be wonderful, and if it doesn't, that'll be okay too," he added.
At a joint press meeting with his visiting American counterpart, French President Emmanuel Macron said "on climate, we know our disagreements. I respect the decision of President Trump, but I remain attached to the Paris Agreement."
Speaking about the disagreements, Macron said, "we have expressed them and shared them several times and I think it is important to be able to continue to see how to move forward on this subject."
"Does this have to hamper, prevent the discussions we have on all the other subjects? Definitely not, in no case," Macron said.
This afternoon, at a joint press meeting with German Chancellor Angela Merkel, the French president expressed his surprise following mounting criticism over Donald Trump's participation in the Bastille Day parade on July 14, saying Washington remained Paris's "strategic ally", despite "strong disagreement" over climate change.