Macrons, Trumps dine high above Paris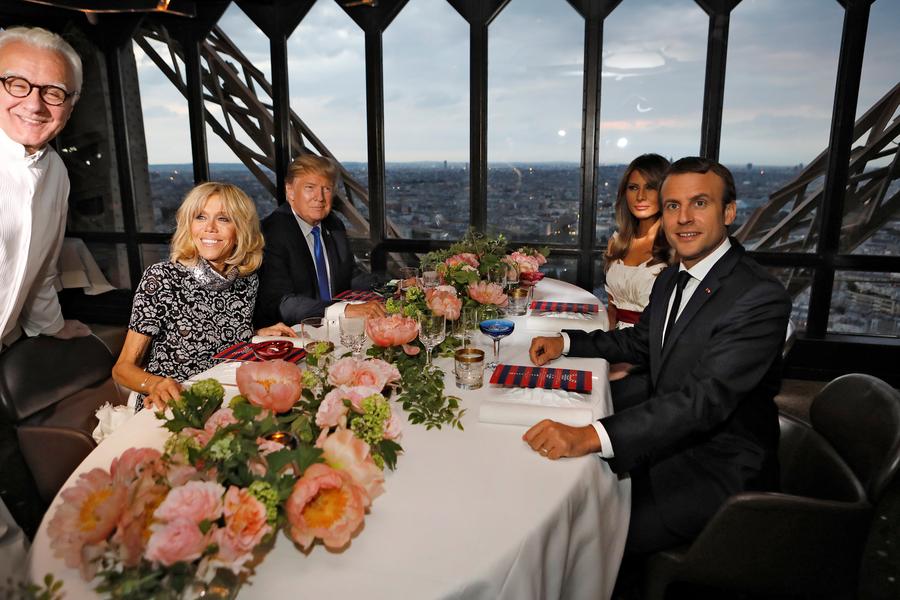 French chef Alain Ducasse (L) stands near Brigitte Macron (2ndL), wife of French President Emmanuel Macron (R), US President Donald Trump (3rdL) and First lady Melania Trump pose at their table at the Jules Verne restaurant for a private dinner at the Eiffel Tower in Paris, France, July 13, 2017. [Photo/Agencies]
PARIS - US President Donald Trump and first lady Melania Trump enjoyed a private dinner high above Paris Thursday evening as they ended their first day in France.
The Trumps, French President Emmanuel Macron and his wife, Brigitte, dined at the Eiffel Tower's Jules Verne restaurant on a meal prepared by Alain Ducasse.
The dinner began with a selection of paté and included Dover sole served with spinach and Hollandaise and filet of beef, souffléd potatoes and truffle sauce.
The meal capped off a day that included a tour of one of Paris's most famous sights, meetings and a joint press conference.
AP