Trump says OK after Senate Republicans delay healthcare bill voting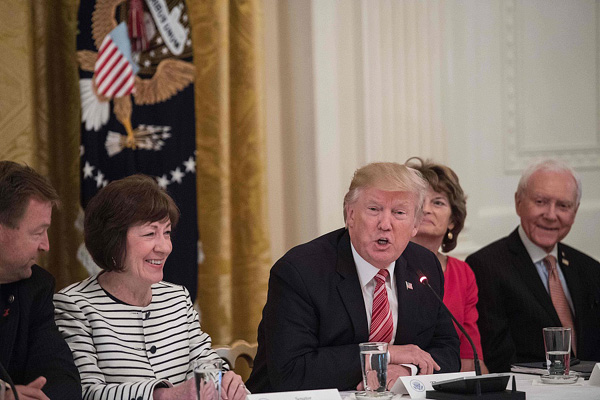 US President Donald Trump flanked by US Senators Dean Heller (L) of Nevada, Susan Collins (2nd L) of Maine, Lisa Murkowski (2nd R) of Alaska and Orrin Hatch (R) of Utah, meet to discuss the healthcare bill at the White House in Washington, DC, on June 27, 2017. [Photo/VCG]
WASHINGTON - US President Donald Trump said Tuesday that if the health care bill to repeal and replace Obamacare fails to pass in the Senate, he won't like it but "that's OK."
He made the remarks shortly after Senate Republican decided earlier Tuesday to delay the voting until after the July 4 recess due to lack of enough supporting votes.
"This will be great if we get it done and if we don't get it done it's going to be something that we're not going to like and that's OK and I can understand that." Trump told a gathering of Senate Republicans.
Senate Majority Leader Mitch McConnell insisted Tuesday that the Republican effort to repeal and replace ObamaCare isn't dead, despite the Senate vote delaying.
"No, no, we're continuing to talk about it. It's a very complicated subject. I remember how challenging it was for the Democrats," he told reporters, "We're still optimistic we're going to get there."
With 52 seats, the Republican Party can only afford to lose two senators and still rely on Vice President Pence to break a tie.
Pushback from several senators appeared too great to overcome this week, especially after the nonpartisan Congressional Budget Office said Monday that the Senate bill would increase the number of people without health insurance by 22 million by 2026.
Earlier on Tuesday, four Republican senators said they would not support an initial vote on the bill, while five have said they couldn't support the bill without change on a final vote.
The entire Democratic Party is expected to stand against the bill, which means the Republicans can only lose support of two lawmakers in the Senate.
Before the budget office released its report on Monday, the American Medical Association officially announced its opposition to the bill, and the National Governors Association urged the Senate to slow down.
Republicans have blasted Obamacare over the past eight years for various reasons, such as driving up the cost of healthcare and leaving consumers with fewer choices. Under Obamacare, those who do not purchase healthcare are levied a tax and many Americans have to pay high deductibles.
In contrast, Democrats argue that Obamacare has helped some 20 million Americans now covered because of the law, while citing other benefits they believe have occurred, such as better preventive care.
Dan Mahaffee, senior vice president and director of policy at the Center for the Study of Congress and the Presidency, told Xinhua that the Republican Party is going to have to very carefully thread the needle between the concerns of moderate Republican senators and those who are very conservative on both healthcare policy and spending.