Supreme Court allows Trump's revised travel ban in part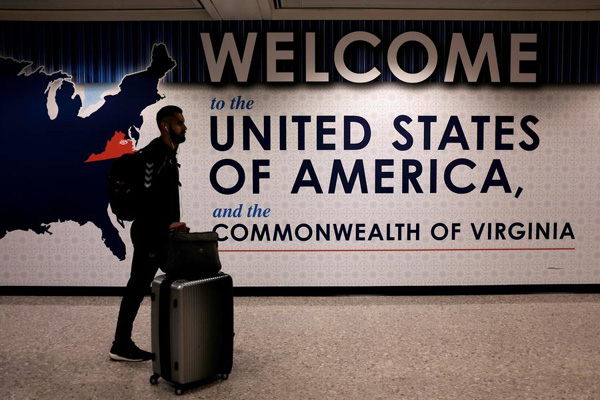 An international passenger arrives at Washington Dulles International Airport after the US Supreme Court granted parts of the Trump administration's emergency request to put its travel ban into effect later in the week pending further judicial review, in Dulles, Virginia, US, June 26, 2017. [Photo/Agencies]
WASHINGTON - The US Supreme Court on Monday announced that it has decided to allow President Donald Trump's controversial revised travel ban to go into effect in most instances and will review it in fall.
The decision, immediately seen as Trump's partial victory, blocks the actions of lower federal courts that had put the president's executive order barring US entry from six majority-Muslim countries in the Middle East and Africa completely on hold.
As a result, people who do not have a bona fide relationship with a person or entity in the United States would be denied entry once the order takes effect within 72 hours. Those who can show they have a relationship to a person or entity will be allowed to enter the United States.
Denying entry to a person that does not have a relationship to a person or entity in the United States "does not burden any American party by reason of that party's relationship with the foreign national. And the courts below did not conclude that exclusion in such circumstances would impose any legally relevant hardship for the foreign national himself," the court said.
Justices Clarence Thomas and Samuel Alito, along with the newest Justice Neil Gorsuch, Trump's nominee to the court earlier this year, wanted to lift the entire ban, according to the order.
The issue has been a big legal controversy in the first five months of Trump's presidency since his original order signed on Jan. 27 sparked widespread protests days after he was sworn in.
The case is at the Supreme Court because two federal appeal courts, the 4th and 9th Circuit courts, have ruled against the Trump travel policy, which would impose a 90-day pause in travel from citizens of Iran, Libya, Somalia, Sudan, Syria and Yemen.
The 4th Circuit based in Richmond, Virginia, said Trump's order discriminated against Muslims.
The 9th Circuit in San Francisco ruled on immigration law, saying Trump's order failed to provide the required justification under the Immigration and Nationality Act for suspending the entry of more than 180 million people on the basis of nationality.
"We continue to be confident that the president's executive order to protect our country is fully lawful and ultimately will be upheld at the Supreme Court," White House Press Secretary Sean Spicer defended Trump's travel ban after the two federal appeal courts' ruling.
The Supreme Court will hear the case when it returns for the fall term, which begins the first Monday in October. Arguments have not yet been scheduled.
Monday is the final day of the Supreme Court's term.