Suspect in Brussels railway station attack identified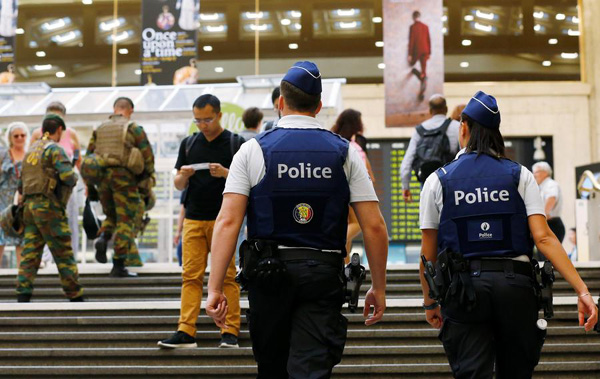 Belgian police officers and soldiers patrol inside Brussels central railway station after a suicide bomber was shot dead by troops in Brussels, Belgium, June 21, 2017. [Photo/Agencies]
BRUSSELS - The suspect who caused a small explosion in Brussels Central Station has been identified as a 36-year-old local man, the Belgian federal prosecutor's office said Wednesday.
The man entered the railway station with a bag of explosives at 20:39 local time (1839 GMT) on Tuesday, and started to scream to cause panic before triggering the explosion, Eric Van Der Sypt, spokesperson of the prosecutor's office, said at a press conference.
The suspect, coming from the city's troubled district of Molenbeek, was immediately shot dead by a soldier patrolling the station, the spokesman said.
Born on Jan. 12, 1981, the suspect was not known for any terrorist link before the incident, the spokesman added.
Police searched his home in Molenbeek on Wednesday morning. The case is considered by the prosecutor's office as a failed terrorist attack.
The explosion did not cause any injuries, but traffic in the city was heavily disrupted on Tuesday evening.