Trump's plan to slash business taxes seen as 'guidepost' by congressional Republicans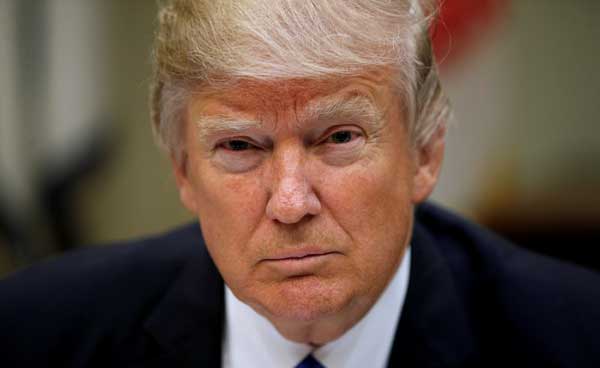 US President Donald Trump looks up while hosting a House and Senate leadership lunch at the White House in Washington, US March 1, 2017. [Photo/Agencies]
WASHINGTON - President Donald Trump unveiled a one-page plan on Wednesday proposing deep US tax cuts, many for businesses, that would make the federal deficit balloon if enacted, drawing a cautious welcome from fiscal conservatives and financial markets.
While the proposed tax cuts would please those helped by them, such as multinational corporations and wealthy taxpayers, Trump's package fell far short of the kind of comprehensive taxreform that both parties in Washington have sought for years.
As his milestone 100th day in office on Saturday nears, Trump has been scrambling to show progress on his agenda. The tax plan, though meager in detail, matched up closely with the promises he made during his victorious 2016 election campaign.
Investors, who had been awaiting tax-plan details for months, largely shrugged off the news, with many saying it was still short on specifics and faced a long road to enactment.
"Wake me up when something actually gets signed into law," said Greg McBride, chief financial analyst at Bankrate.com in West Palm Beach, Florida
Only Congress can make major tax law changes, and Democrats immediately attacked the Republican president's plan as fiscally irresponsible.
"President Trump's tax plan is short on details and long on giveaways to big corporations and billionaires," said Nancy Pelosi, the top Democrat in the House of Representatives.
House Speaker Paul Ryan, Senate Majority Leader Mitch McConnell and the top Republicans on the congressional tax-writing committees welcomed the Trump proposals, while leaving space for details to change as legislation evolves.
"The principles outlined by the Trump administration today will serve as critical guide posts" as Congress and the administration work on tax changes, they said in a statement.
US stocks pared gains on Wednesday after the plan was unveiled. While Wall Street has been optimistic about the prospect of corporate tax cuts since Trump's election in November, the stocks rally has stalled lately because of a lack of clarity about Trump's policies and concern over his failure to push through a healthcare bill.
The benchmark Dow Jones industrial average of blue-chipstocks on Wednesday closed down one-tenth of one percent.
Some analysts said investors were aware of the long road ahead before any tax bill is passed.
"We have a pretty good idea that he (Trump) is targeting lower corporate taxes, lower individual taxes and as implification of the process, but all that is in an ideal world," said Andre Bakhos, managing director at Janlyn Capital in Bernardsville, New Jersey.