President Trump names new Secret Service chief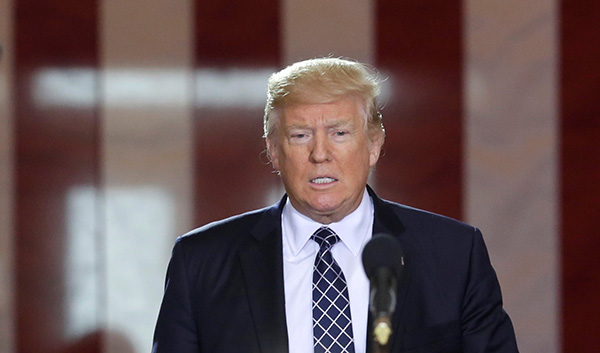 US President Donald Trump delivers the keynote address at the US Holocaust Memorial Museum's "Days of Remembrance" ceremony in the Capitol Rotunda in Washington, US, April 25, 2017. [Photo/Agencies]
WASHINGTON - US President Donald Trump on Tuesday named Randolph Alles as the new director of the Secret Service, the White House said in a statement.
"Mr Alles currently serves as the acting Deputy Commissioner of US Customs and Border Protection (CBP). Prior to that, Mr Alles led CBP's air and marine operations," the statement said.
"Mr Alles served in the US Marine Corps for 35 years, retiring in 2011 as a Major General. He holds a Bachelor's degree from Texas A&M University and a master's degree in National Security and Strategic Studies in the Naval War College," the statement said.
Former Secret Service Director Joseph Clancy retired on March 4.
The US Secret Service is a law enforcement branch under the Department of Homeland Security, one of its primary duties is to ensure the safety of current and former national leaders and their families. It is also charged with investigating financial fraud such as currency counterfeiting.