Mudslides kill more than 200, sweep homes away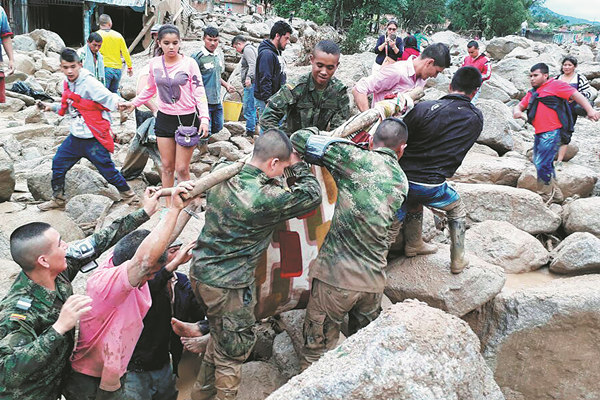 Soldiers and residents work together in rescue efforts in Mocoa, Colombia, on Saturday after an avalanche of water and mud from an overflowing river swept through the city as people slept. AP
MOCOA, Colombia — Rescuers clawed through piles of mud and twisted debris on Sunday searching for survivors after violent mudslides destroyed homes in southern Colombia, killing more than 200 people and injuring hundreds more.
They were the latest victims of deadly floods and mudslides that have struck the Pacific side of South America over recent months, also killing scores of people in Peru and Ecuador.
In the southwestern Colombian town of Mocoa, a sudden surge of mud and water swept away homes, bridges, vehicles and trees, leaving piles of wrecked timber buried in thick mud.
The mudslides slammed Mocoa on Friday after days of torrential rain in the Amazon basin area town of 40,000.
The latest information showed that there are 234 people confirmed dead, 202 injured and more than 100 people missing, according to the Colombian Red Cross.
On Sunday, President Juan Manuel Santos returned with Cabinet ministers to Mocoa, the capital of the Putumayo Department, to supervise rescue efforts in the heavily forested region.
Santos met with rescuers and survivors in Mocoa on Saturday and declared a public health and safety emergency to speed up rescue and aid operations.
"Dear God, I don't want to even remember that," said street vendor Marta Ceballos, who survived the mudslide.
"To see how some people screamed, and others cried, ran, tried to flee in cars, on motorcycles, and how they were trapped in the mud. It's all too, too difficult," she said.
Ceballos said that she lost all of her possessions. "The only things I fortunately did not lose were my husband, my daughters and my nephews," she said.
Meanwhile, 1,000 emergency personnel, including soldiers and local police, were helping the rescue effort. Mocoa was left without power or running water, and there were reports of people looting stores in search of bottled water.
"There are lots of people in the streets, lots of people displaced, and many houses have collapsed," retired Mocoa resident Hernando Rodriguez, 69, said by telephone.
Xinhua—AFP