Main opposition at Westminster claims Britain divided as May named 'Brexit Day'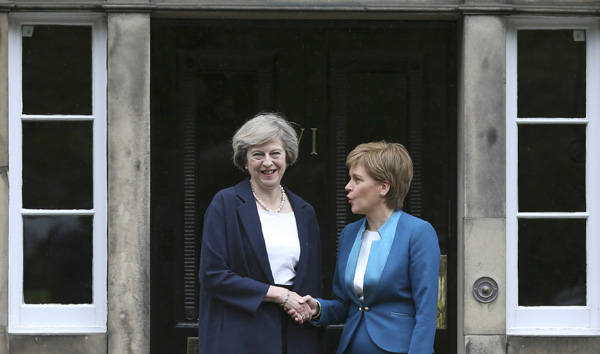 This file photo shows that Scotland's First Minister, Nicola Sturgeon (R), greets Britain's new Prime Minister, Theresa May, as she arrives at Bute House in Edinburgh, Scotland, Britain July 15, 2016. [Photo/Agencies]
LONDON - Britain is more divided at home and abroad, the main opposition Labour Party Brexit minister said Monday after the British government announced it would trigger the European Union exit process on Wednesday of next week.
Prime Minister Theresa May's government also faced angry criticism in Scotland with the Scottish Parliament's main Brexit spokesman saying Westminster had not informed him of the March 29 date for the triggering of the Article 50 Brexit process.
Scottish National Party (SNP) politician, Michael Russell, who is leading the Scottish side's Brexit talks with the Westminster government, said he only heard of the date being set from a media report.
The apparent snub to Scotland by Westminster comes when there is increasing tension between First Minister Nicola Sturgeon and her SNP party, and May's government in London.
The Scottish Parliament will start a debate Tuesday, leading to a vote Wednesday when the Holyrood parliament is expected to back Sturgeon's call for a second independence referendum for Scotland before London concludes its Brexit negotiations with the EU.
A spokesman in Edinburgh for Scotland's First Minister Sturgeon said: "The fact the UK government failed to properly and fully inform all of the devolved administrations on the plans for triggering Article 50 speaks volumes, and totally exposes as empty rhetoric Westminster's language about equal partnership."
In its official response to the announcement, the Labour Party main Brexit spokesman at Westminster, Keir Starmer, said: "Theresa May has repeatedly said that she wants to build a national consensus on Brexit, but it is increasingly clear she has failed to do so. Britain is now more divided at home and isolated abroad."
"It is also extraordinary that the prime minister has failed to provide any certainty about her plans for Brexit or to prepare for the clear dangers of not reaching a deal with the EU. Labour will hold the Prime Minister to account all the way, and argue for a Brexit deal that puts jobs, the economy and living standards first."
Tim Farron, leader at Westminster of the Liberal Democrat Party, said May had "rushed this through without a plan, and without a clue".
"On the day Theresa May is travelling the country claiming she wants to bring the United Kingdom together, she lets it be known she is about to unleash division and bitterness. You can't have a rushed Brexit and a strong, united country," said Farron.
A spokesman at 10 Downing Street said May will personally sign the formal letter on March 29 to European Council President Donald Tusk to inform him she was triggering Article 50. On the same day, May will make a statement to MPs in the House of Commons.
Tusk says he plans an initial response within 48 hours, but it could be several weeks before serious negotiations start between London and Brussels.