Experts: Time for China to play bigger role in global governance
China should play a more active role in global affairs, said observers at a high-level forum held earlier this week in Beijing.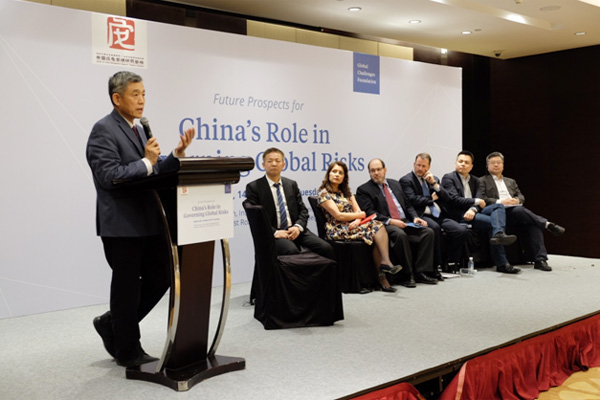 Panellists discuss the global governance during a forum on the future prospect for China's role in governing global risks in Beijing on March 14, 2017.[Photo provided to chinadaily.com.cn]
"In many ways, China is looking for ways to play a more important role in global governance. The Asian Infrastructure Investment Bank (AIIB) as well as the Belt and Road Initiative are the examples," said Paul Haenle, the former China director in the US government and now director of Carnegie-Tsinghua Center for Global Policy.
"It is a great place and great time to have the discussion on the issue," he said at the forum organized to address the future prospect for China's role in governing global risks, especially in terms of climate change, environmental damage, conflicts and extreme poverty. The event drew top experts from leading universities and NGOs from home and abroad.
The government has already been paying greater attention to China's involvement to global governance. "China will become more involved in global governance and make economic globalization more inclusive, mutually beneficial and equitable," said the Government Work Report submitted to this year's National People's Congress annual session.
One particular topic discussed at the forum was climate change. This comes at a time when the environmental community is still digesting Trump administration's shifting attitude on the issue. Earlier, it was reported that the US Environmental Protection Agency Administrator Scott Pruitt has denied that carbon dioxide emissions are a primary cause of global warming.
Experts suggested that the international community should take a wait-and-watch approach as it is still too early to conclude Trump presidency's possible actions on global issues, including climate change.
"The US system doesn't allow only the executive branch to take actions, since the Congress, courts and many private organizations also play a crucial role," said Arnold Howitt, co-director of program on crisis leadership at the Harvard Kennedy School."It is still premature to know how much the direction will change. It may not be as drastic as people fear."
Pang Zhongying, professor of international relations at Renmin University, said: "Global governance has become a dilemma for the current US administration. It needs to strike a balance between global participation and Donald Trump's political stands spelled out by him during his campaign."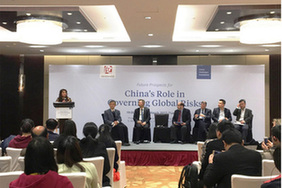 Malini Mehra, Ambassador of the "Global Challenges Prize 2017", addresses the floor during a forum on the future prospect for China's role in governing global risks in Beijing on March 14, 2017. [Photo provided to chinadaily.com.cn]
On China's contribution to the global efforts, Malini Mehra, CEO of London-based GLOBE International, told chinadaily.com.cn that China's pledge to peak carbon emissions by 2030 was a key moment. "This provided a huge confidence boost to the rest of the world," added Mehra.
GLOBE is an international organization comprising national parliamentarians from more than 80 countries committed to developing and overseeing the implementation of laws in pursuit of sustainable development, according to its website.
"Since then we have seen a massive commitment toward clean energy and clean technology. The scale of investment has now galvanized the further growth of renewable energy around the world," she said.
On the sidelines of the forum, a Global Challenges Prize 2017, also called as "the New Shape prize", was introduced by the Stockholm-based Global Challenges Foundation. With a prize money of $5 million, it aims to award the best ideas for a global governance framework.
But for Mehra, building trust and confidence remains the most crucial factor in today's global governance. "Think about the harder issues not just multilateralism and technical aspects."