Beijing joins St Patrick's Day celebrations
As the St Patrick's Day, the most important Irish festival, turns the world green, people in Beijing are also enjoying a bit of Irish culture-- folk music, river dance and traditional food & drinks.
The celebrations are part of the week–long events in the capital, including the annual grand event to turn Great Wall green as well as the Irish embassy reception on March 17, the day the festival was marked.
For the Upducky Band, it is their first opportunity to introduce authentic Irish music to listeners in Beijing. The contemporary Irish folk band, invited by the Irish embassy, will perform in bars and universities in Beijing throughout the week.
The band's lead singer and songwriter David Muldrew says the festive atmosphere in Beijing is great. "We expected things to be a little bit quieter. But people joined in and clapped along with the music, which is what Irish people love to do."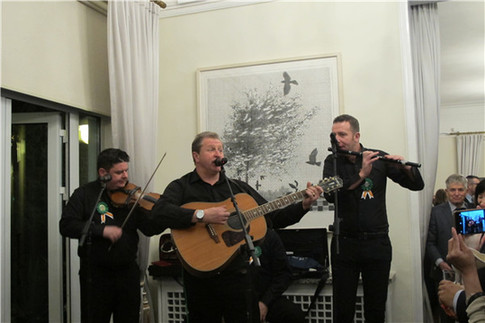 The Upducky Band plays at the Irish embassy in Beijing as part of the St Patrick's Day celebrations on March 17, 2017. [Photo/chinadaily.com.cn]