LONDON - Prime Minister Theresa May on Monday began a tour of Britain as part of her ongoing engagement with devolved regions ahead of Brexit.
May is going to trigger Article 50 on March 29, formally starting the country's exit from the European Union, British media reported.
The move, which comes nine months after a referendum, will officially start a two-year process of negotiations.
May's tour started in Wales, and will be followed by visits to Scotland and Northern Ireland.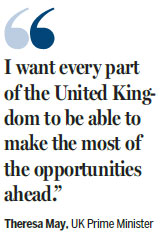 Downing Street said the tour was part of a series of visits around Britain to enable the Prime Minister to engage and listen to people from across the nation as it prepares to leave the EU.
May, accompanied by the Secretary of State for Exiting the EU David Davis and the Secretary of State for Wales Alun Cairns, met with the Welsh First Minister Carwyn Jones. as well as representatives from a range of sectors and businesses.
A Downing Street spokesman said: "The main point of discussion will be how every part of the UK - including Wales - can make the most of the opportunities offered by Brexit. The Welsh export market is worth around 12.3 billion pounds a year."
Ahead of her departure on Monday morning, May said: "From my first day on the steps of Downing Street, I made clear my determination to strengthen and sustain the precious union. I have also been clear that as we leave the European Union I will work to deliver a deal that works for the whole of the UK. I want every part of the United Kingdom to be able to make the most of the opportunities ahead."
May's tour will also take her to Scotland, where the Scottish Parliament will be voting on Wednesday after a two-day debate whether to back a new independence referendum.
Scotland's first minister Nicola Sturgeon wants a national vote before a final Brexit deal is sealed with Brussels. May has said now is not the time for any such move, preferring to wait until after Brexit.
The media in Scotland was on Monday focusing on what currency Scotland would adopt if it became independent, with choices ranging from the sterling to a new currency, though Scotland's former first minister, the SNP's Alex Salmond, has ruled out the euro.
The Evening Standard in London reported on Monday that a latest opinion poll shows support for Scottish independence at 44 percent, lower than it was in 2014 when the first independence poll was held.
Scottish voters backed remaining in the EU by 62 percent to 38 percent in the Brexit vote last June, compared to the final result for the whole of Britain of 52 percent to 48 percent.
(China Daily 03/21/2017 page11)