Professor's wife's appearance during live show provokes fierce 'racism' discussion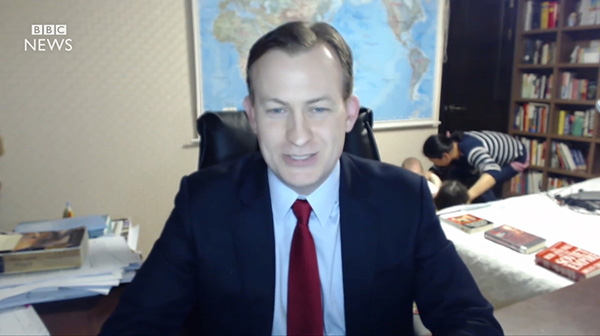 Prof Robert E Kelly keeps his cool during an interview about South Korean politics when his two children interrupt him, live on air, on BBC World News. [Photo/screenshot from BBC World News]
When Professor Robert Kelly was interrupted by his two kids rushing into his room during a BBC interview being broadcast live, his wife, South Korean Jung-a Kim, hastily grabs the kids, dragging them out of the room and closing the door. As the less than one-minute video from March 10 soon went viral, many assumed Ms Kim was the nanny, rather than his wife, simply because she is a young Asian.
Early comments on Twitter and Facebook showed that when many viewers saw the panicked Asian woman rushing into the professor's office they regarded Kim as a babysitter or the hired help.
Some media outlets also made the mistake, as Time.com described: "The episode reaches a crescendo when a frenzied nanny burst in, in a cartoon-like blur, and corrals the children out of the room." The media tycoon later clarified that the woman is Kelly's wife, Jung-a Kim.
The video, which has now been viewed millions of times, has provoked fierce debate, as some social media users called the reaction "racism", and reflective of the invisible stereotypes that still remain deep-rooted in the heads of many people.
A twitter user @ShanaazMohammed posted a family photo of Kelly, his wife, and their daughter, saying: "Many people keep referring to Prof Robert Kelly's wife, Jung-a Kim, as "the nanny". Here they are."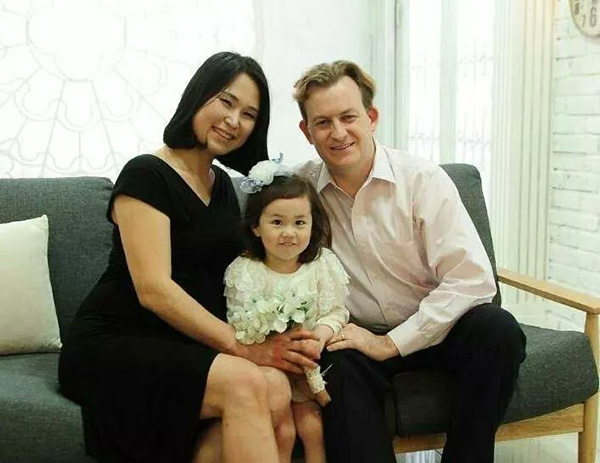 Professor Robert E Kelly poses for a family photo with wife Jung-a Kim and daughter Marion. [Photo/Twitter]
"If you 'automatically' thought Professor Robert E Kelly's Asian wife was his nanny, you need to unfollow me. You are a racist. Goodbye," tweeted @RenagadeGirl on March 10.
"I feel so sad for Robert Kelly's wife. Half the world thinks she's the kids' nanny," posted Sarah D. Janjua on Twitter on March 11, as the debate raged.
However, the episode was simply "hilarious" in the eye of Prof Kelly's mother, Ellen Kelly, as she thought the young children probably thought their dad was Skyping their grandparents from their home in South Korea. "Life happens. The lesson is to lock the door," added the grandma.
But the accompanying fierce debate on racism still require pondering.
A Facebook search shows Professor Robert Kelly teaches political science at Pusan National University in Busan, Korea, where he now lives with his wife, Jung-a Kim, a yoga teacher, and their two children, Marion, 4, and 9-month-old James.