WikiLeaks says it releases files on CIA cyber spying tools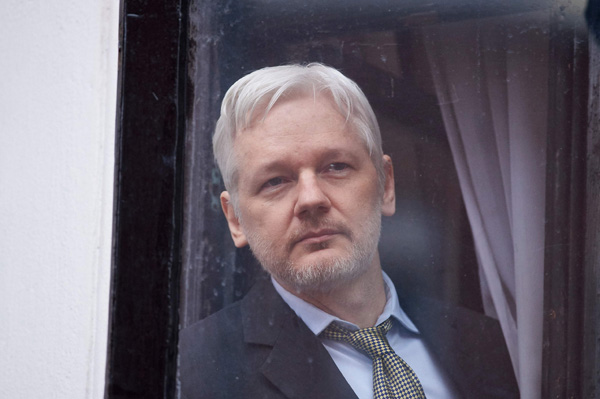 File photo of WikiLeaks founder Julian Assange in London. [Photo/VCG]
WASHINGTON - Anti-secrecy group WikiLeaks on Tuesday published what it said were thousands of pages of internal CIA discussions about hacking techniques used over several years, renewing concerns about the security of consumer electronics and embarrassing yet another US intelligence agency.
The discussion transcripts showed that CIA hackers could getin to Apple Inc iPhones, Google Inc Android devices and other gadgets in order to capture text and voice messages before they were encrypted with sophisticated software.
Cyber security experts disagreed about the extent of the fallout from the data dump, but said a lot would depend on whether WikiLeaks followed through on a threat to publish the actual hacking tools that could do damage.
Reuters could not immediately verify the contents of the published documents, but several contractors and private cybersecurity experts said the materials, dated between 2013 and 2016, appeared to be legitimate.
A longtime intelligence contractor with expertise in US hacking tools told Reuters the documents included correct "cover" terms describing active cyber programs.
Among the most noteworthy WikiLeaks claims is that the Central Intelligence Agency, in partnership with other US and foreign agencies, has been able to bypass the encryption on popular messaging apps such as WhatsApp, Telegram and Signal.
The files did not indicate the actual encryption of Signal or other secure messaging apps had been compromised.
The information in what WikiLeaks said were 7,818 web pages with 943 attachments appears to represent the latest breach in recent years of classified material from US intelligence agencies.
Security experts differed over how much the disclosures could damage US cyber espionage. Many said that, whileharmful, they do not compare to former National Security Agency contractor Edward Snowden's revelations in 2013 of mass NSA data collection.
"This is a big dump about extremely sophisticated tools that can be used to target individual user devices ... I haven't yet come across the mass exploiting of mobile devices," said Tarah Wheeler, senior director of engineering and principal security advocate for Symantec.