Birmingham renews rail agreement with top Chinese university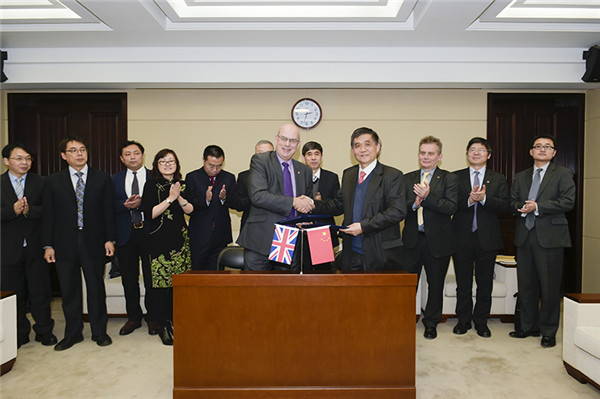 Sir David Eastwood,Vice Chancellor at the University of Birmingham,shakes hands with Professor Ning Bin, President of Beijing Jiaotong University (BJTU) during the signing ceremony in Beijing on Jan 5, 2017. [Photo provided to chinadaily.com.cn]
The vice chancellor at the University of Birmingham says the UK will see major benefits from China's expertise as the country plans to build its own high-speed network, better known as HS2.
"High-speed network we are building in the UK, the first stage of that will go from London to Birmingham. So Birmingham will play a critical role in the development of UK's high-speed network," said Vice-Chancellor Sir David Eastwood. "Also, the UK government last year has confirmed that it will set up a high speed rail college to train many of the talents in Birmingham."
This comes as the University of Birmingham has renewed an agreement with Beijing Jiaotong University (BJTU) on Thursday in Beijing, aiming to develop new technology for building safer and more efficient railways.
Both universities will continue their successful partnership and strengthen educational links that will allow Chinese rail engineering students to study at Birmingham, benefiting from the University's expertise, particularly in railway control and safety.
"This agreement with Beijing Jiaotong University marks the start of even closer cooperation on railway research," said Professor Sir David Eastwood. "What we are looking forward to is a golden age in the collaboration between our two universities."
Professor Ning Bin, President of BJTU, joined Sir David Eastwood to sign the agreement at a special ceremony in Beijing.
"Our partnership will strengthen co-operation between two of the UK and China's best railway research and education institutions. It will demonstrate best practice between universities and enterprises in promoting technology transfer," added Professor Ning.
Birmingham Centre for Railway Research and Education (BCCRE) is a world leader in railway research and education, whilst BJTU is a prestigious Chinese university with a particular strength in railway engineering.