Britain names new EU ambassador after sudden quit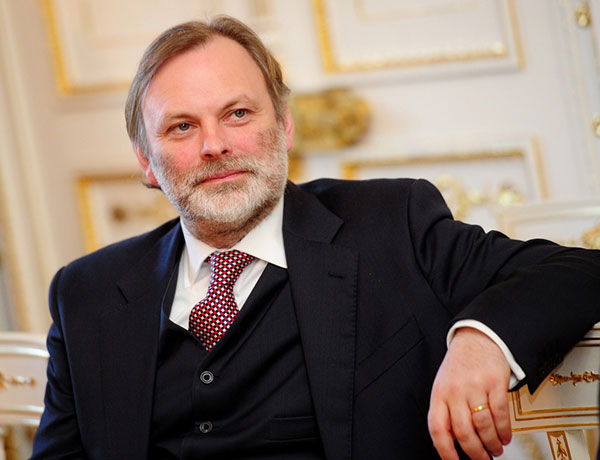 File photo shows Tim Barrow, Ambassador of the United Kingdom to Russia, at the International College of Economics and Finance graduation ceremony in Moscow, Russia on September 25, 2013. [Photo/IC]
LONDON - Former British ambassador to Russia, Sir Tim Barrow, was confirmed on Wednesday night as Britain's new envoy to the European Union (EU).
He succeeds Sir Ivan Rogers who resigned 24 hours earlier from the key role in Brussels.
Downing Street moved swiftly to find a successor to Rogers who announced on Tuesday his decision to leave his job as Britain's top man in Brussels.
Barrow's appointment was announced by Downing Street where a spokesman for Prime Minister Theresa May described him as a seasoned and tough negotiator.
Barrow will now play a key role in the Britain's Brexit negotiations with officials in Brussels.
The Guardian newspaper in London said Wednesday night the decision to hand the job to Barrow showed May had ignored calls from within her own Conservative party to appoint a wholehearted Brexiter, even possibly somebody from outside of the civil service to the job in Brussels.
In a brief statement from the Foreign and Commonwealth Office (FCO) in London, Foreign Secretary Boris Johnson welcomed the appointment of Barrow as Britain's Permanent Representative to the European Union.
The FCO said Rogers had taken the decision to quit now to enable a successor to be appointed before the Britain invokes Article 50 by the end of March to start the process of Britain leaving the EU.
Barrow was only appointed last year to the key job of Political Director at the FCO, where he has worked since joining the diplomatic service in 1986.
"He will bring his trademark energy and creativity to this job -- working alongside other senior officials and Ministers to make a success of Brexit," said a Downing Street spokesperson.
Barrow spent several years in Moscow after being appointed as British ambassador to Russia in 2011, having previously served in a number of capacities in Moscow.
He has also worked in a number of jobs in Brussels during his time as a diplomat.