UN voices concern over 116,000 people displaced from eastern Aleppo, Syria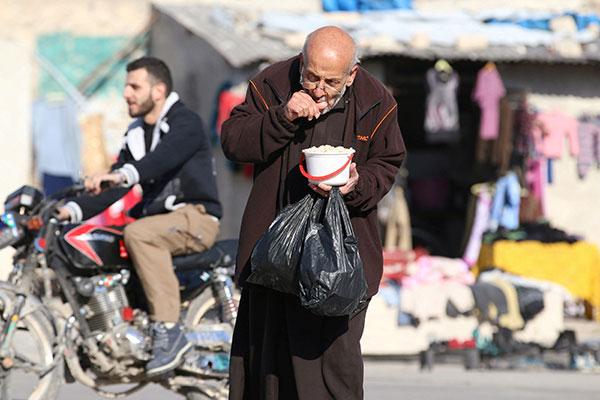 File photo shows a man eats food that was distributed as aid in a rebel-held besieged area in Aleppo, Syria November 6, 2016.[Photo/Agencies]
UNITED NATIONS - The United Nations continues to be concerned with the 116,000 people that have been registered as displaced from formerly non-government controlled neighbourhoods of eastern Aleppo, Syria, said UN Spokesperson Stephane Dujarric Tuesday.
"The scale of destruction in Aleppo is massive and needs enormous help, including such things as health care, water and sanitation, education systems, housing and shelter, electricity and livelihoods," said Dujarric at a press briefing.
In the meantime, the UN and its partners are working closely with the (Syrian) Government to respond to the most urgent needs, he said.
"We urge donors to provide immediate and long-term support to the more than 100,000 highly vulnerable people in Aleppo, so they can continue to receive life-saving assistance and help," said Dujarric.