Fired from 'Apprentice,' Omarosa may get Trump White House job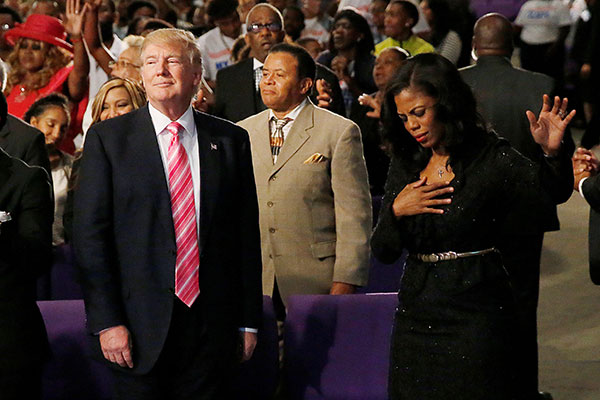 File photo shows Republican presidential nominee and Omarosa Manigault (R) attend a church service, in Detroit, Michigan, US, September 3 2016.[Photo/Agencies]
WASHINGTON - Omarosa Manigault, best-known for repeatedly being fired on the TV show "The Apprentice," is being considered for a job in Donald Trump's White House, a member of the president-elect's transition team said on Tuesday.
A lecturer on branding and marketing at Howard University and a former Mrs America pageant contestant, Manigault, 42, was one of Trump's more visible African-American supporters during his successful election bid.
The Youngstown, Ohio, native also worked at the White House during the Clinton administration, in Vice President Al Gore's office.
Trump won national attention by hosting the first 14 seasons of the NBC TV game show "The Apprentice," in which contestants vied to demonstrate their business skills and win a job running one of his companies. Typically, Trump would eliminate one hopeful each week with his trademark phrase, "You're fired."