Suspected Kurdish militants kill two in car bombing in Turkey's Izmir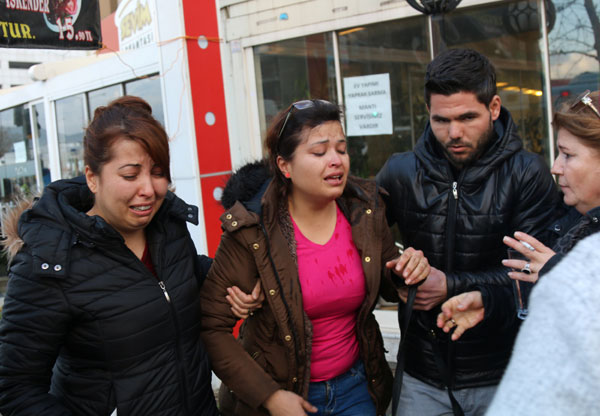 People react after an explosion outside a courthouse in Izmir, Turkey, January 5, 2017. [Photo/Agencies]
ANKARA - Suspected Kurdish militants clashed with police and detonated a car bomb in western Turkey on Thursday after their vehicle was stopped at a checkpoint, killing a police officer and a court employee, officials said.
The explosion and gunfire outside the main courthouse in Izmir, Turkey's third largest city, highlighted the country's deteriorating security after a gunman killed 39 people in a New Year's Day mass shooting at an Istanbul nightclub.
"Based on the preparation, the weapons, the bombs and ammunition seized, it is understood that a big atrocity was being planned," Deputy Prime Minister Veysi Kaynak told reporters.
The local governor said the arms included Kalashnikov rifles, hand grenades and ammunition for rocket-propelled grenade launchers.
Izmir police shot dead two of the attackers and were hunting a third, a police source and the state-run Anadolu agency said.
"Our heroic police officer martyred in this attack, Fethi Sekin, prevented a much bigger disaster happening, sacrificing his own life without a thought for it," Prime Minister Binali Yildirim said in a statement, condemning the "heinous" attack.
Two people, believed to have sold the vehicle used in the attack to the assailants, were subsequently detained, security sources said. CCTV footage obtained by Reuters showed a passerby fleeing as the vehicle exploded in a fire ball.
Initial findings suggested that Kurdistan Workers Party (PKK) militants were behind the attack, Izmir governor Erol Ayyildiz said.
Dozens of people rushed to the scene of the blast and chanted "God damn the PKK" and other slogans against the militant group. A helicopter was seen flying overhead.
Ayyildiz said a second vehicle had been detonated in a controlled explosion. Anadolu said police suspected the attackers had planned to escape in this vehicle.
NATO member Turkey is part of the US-led coalition fighting Islamic State in Syria and is also battling an insurgency by the PKK in the largely Kurdish southeast.
It regularly bombs PKK camps in northern Iraq and its military operations in Syria also aim to stop Kurdish militias it sees as an extension of the PKK from gaining territory there.
"Turkey will be instrumental in its region. These (attacks) will never prevent us from being present in areas like Iraq and Syria, which produce terrorists like viruses," Kaynak said.