Expert: High-speed rail shows how policy can boost industry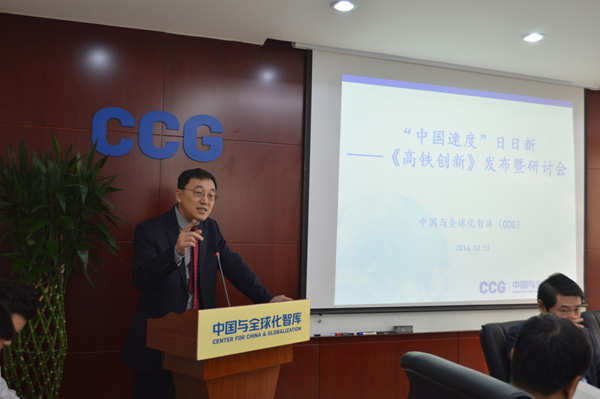 Gao Bai gives a speech at the symposium and book launch event held at Center for China and Globalization (CCG), a think tank, in Beijing, Dec 13, 2016. [Photo provided to chinadaily.com.cn]
China's high-speed rail best exemplifies how the country's policy can boost the development of an industry, said an expert at a symposium and book launch event held at Center for China and Globalization (CCG), a think tank, in Beijing on Tuesday.
Gao Bai, a Duke University professor and a CCG's academic board member, said that is one of the main viewpoints of his co-authored book High-speed Rail: An Analysis of the Chinese Innovation System.
"In the case of China's high-speed rail, the government both controlled market access and encouraged competition, which proved very successful. Market access limits the number of participants, helping the top two high-speed rail manufactures, China South Railway (CSR) and China CNR Corporation Limited, get advantage in negotiations with foreign companies. And fierce competition in innovation between the two rail moguls boosted the overall development," said Gao.
Gao also highlighted that China's high-speed rail technology is best example of integration of independent innovation and technology import, each aspect indispensible in the process.
His opinion was seconded by other scholars attending the symposium, including Zhao Gang, a researcher from Chinese Academy of Science and Technology for Development, and Lyu Tie, a researcher from Chinese Academy of Social Sciences.
Scholars also proposed that innovation can benefit from cooperation between companies and universities. They hoped that academic circles would pay more attention to empirical studies.