US spy chief 'resolute' on Russia cyber attack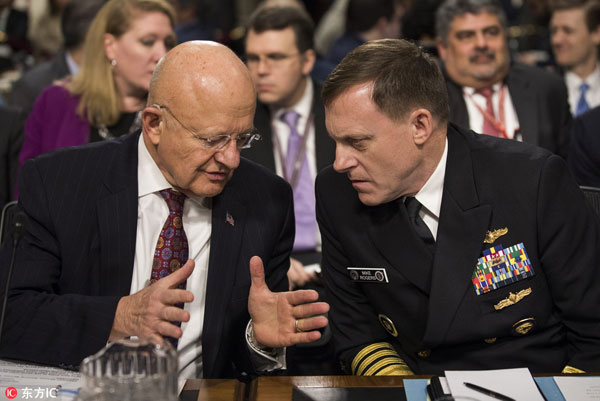 Director of National Intelligence James Clapper (L) and National Security Agency Director US Navy Admiral Michael Rogers testify before a Senate Armed Services Committee hearing on foreign cyber threats, on Capitol Hill in Washington, US January 5, 2017. [Photo/IC]
MOSCOW DENIES ALLEGATIONS
Moscow denies the allegations. Obama last week ordered the expulsion of 35 Russian suspected spies and imposed sanctions on two Russian intelligence agencies he said were involved in hacking US political groups such as the Democratic National Committee.
In a tweet on Wednesday, Trump was skeptical about a Russian role, criticizing Democrats and praising WikiLeaks founder Julian Assange, whose organization posted Democrats' emails.
But on Thursday, Trump said in another post on Twitter that he was not against intelligence agencies or in agreement with Assange. "The media lies to make it look like I am against 'intelligence' when in fact I am a big fan!" Trump tweeted.
Clapper said Assange had put American lives in danger and deserved no credibility. McCain and other lawmakers also blasted Assange.
Senator Claire McCaskill, a Democrat, said there would be "howls" from Republicans if a Democrat described intelligence officials as Trump had.
Documents stolen from the DNC and Clinton's campaign chairman, John Podesta, were posted on the Internet before the election, embarrassing her campaign.
US intelligence officials have said Russian cyber attacks were specifically aimed at helping Trump beat Clinton. Several Republicans have acknowledged the Russian hacking but have not linked it to an effort to help Trump win.
Trump and top advisers believe Democrats are trying to delegitimize his victory by accusing Russia of helping him.
Senator Tim Kaine, an Armed Services member who was Clinton's vice presidential running mate, said: "It is my hope that this Congress is willing to stand in a bipartisan way for the integrity of the electoral process."
Graham said Obama's actions against Moscow fell short.
"I think what Obama did was throw a pebble. I'm ready to throw a rock," Graham said. "Putin is up to no good and he better be stopped."